'Brave' Vs.'Magic Mike' & 'Ted' at Box Office!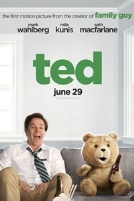 Four newcomers will enter the fray in this crowded pre-Fourth of July weekend with "Ted" from Universal, Warner Bros.' "Magic Mike," Lionsgate's "Tyler Perry's Witness Protection" and "People Like Us" from Disney all making their wide release debuts. This is one of the toughest weekends to predict given the number of new films and with predictions all over the map for both "Ted" and "Magic Mike," but we will give it a shot!
UPDATE: "Ted" earns $2,625,000 in midnights screenings in 1,090 theaters!
"Magic Mike" earns $2,050,000 in midnight screenings in 1,100 theaters!
Disney/Pixar's 13th movie release, Brave in 3-D should have another great weekend and an potentially chart-topping $40 million plus on the heels of a solid mid-week performance. Kelly MacDonald voices the bow and arrow wielding protagonist Merida along with a terrific cast that includes Billy Connolly, Emma Thompson, Julie Walters and Robbie Coltrane. With $66 million in its opening weekend the film gave the Pixar brand its latest (and 13th) number one debut and a modest second weekend drop of 35 to 40% should give it the competitive edge this weekend. "Brave" will hit the bullseye on the $100 million target in North America on Friday after just eight days of release.
Seth MacFarlane and Universal bring the R-rated comedic fantasy Ted,  to 3,239 theaters this weekend and a possible $35 million of box office bear stuffing could be the result. Starring Mark Wahlberg and Mila Kunis the pure insanity of the concept will have audiences talking and the date-crowd lining up in droves this weekend. The red band trailer created a sensation when it hit the internet many weeks ago and the buzz has been building ever since. Giovanni Ribisi makes an impression in a supporting role that has to be seen to be believed and Kunis and Wahlberg are well cast in their roles. However, it is Seth MacFarlane's foul-mouthed teddy bear that steals the show along with a couple of cameos that will have audiences pleasantly shocked.
Scott Stuber, CEO of Bluegrass Films, produced "Ted" and set the film up at MRC and then brought it to Universal.
R-rated films will be well represented this weekend with Warner Bros.' Magic Mike  taking it all off for an appreciative female fan base with a possible gross in the $30 million range. Much like the "Sex and the City" films, this movie will be the centerpiece for a perfect "girls night out" and as we have seen in the past, this can be a powerful draw at the box office. Channing Tatum, who has been on a box office roll of late will bring out his devotees as well as fans of Matthew McConaughey and Joe Manganiello who take it all off for acclaimed director Steven Soderbergh. A terrific marketing campaign as well as solid word-of-mouth could fuel an even stronger than expected debut for this film that is tailor-made for the female demographic.
The prolific and popular Tyler Perry brings his latest, Madea's Witness Protection from Lionsgate to 2,161 theaters this weekend. The PG-13 rated comedy stars Perry playing a total of three characters in the film about a Wall Street banker who is the victim of a ponzi scheme set up that finds himself and his family in the home of their Aunt Madea and the comedy that ensues. A truly bankable brand, Perry and particularly his films that feature "Madea" in the title have always been consistent performers at the box office. An expected gross in the low-$20 million range should be the result.
Paramount Pictures PG-rated Madagascar 3: Europe's Most Wanted (read the review) from Dreamworks Animation will enter its fourth weekend with around $168 million in North America to date. A weekend gross in the low-teens will have it closing in on the $180 million mark as it continues to draw family audiences despite increased competition from "Brave." The 3-D family favorite is also a global hit as it nears the $400 million mark in 45 territories.
Disney's People Like Us starring Chris Pine, Elizabeth Banks and Michelle Pfeiffer follows Pine as a high energy salesman who is called back to California for his estranged father's funeral and the family drama that develops. A sub $10 million gross is expected for this engaging PG-13 drama that opens in 2,055 theaters and also stars Olivia Wilde.
This will likely be the third "down" weekend vs. the comparable frame a year ago when Paramount's "Transformers: Dark of the Moon" led an extended holiday weekend that benefited from a Monday, July 4 holiday and gave the film a record Fourth-of-July haul of $97.8 million for Friday through Sunday and a four-day total of $115.9 million.