'Breaking Bad' Season 3 DVD Giveaway!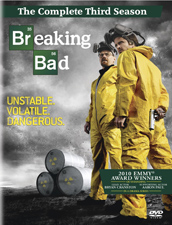 Since 2007, AMC has been producing some of the best programs on TV – broadcast or cable. It started with Mad Men, but the hype quickly spread to Breaking Bad, the channel's sophomore series. After multiple Emmy wins thanks to gripping storylines and fantastic performances, the show has earned its rightful place in pop-culture history and now, on the eve of the season four premiere, we're giving away the complete third season on DVD!
How to Enter
1. Follow Hollywood.com on Twitter by clicking HERE.
2. Send out any tweet and make sure to include the #BreakingBadDVD hashtag.
3. Winners MUST be in the US only.
We'll choose one random winner on Friday, June 10. That's all there is to it! Now get to it and good luck!