'Breaking Dawn — Part 2' Countdown: A Day in the Life of a Twihard — PART 2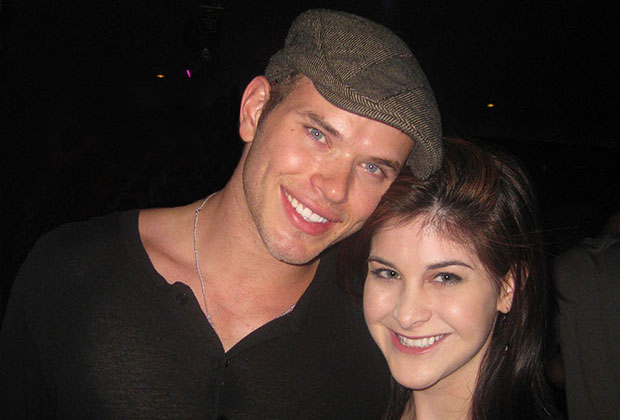 On Nov. 16, Twilight fans around the world will say goodbye to their favorite saga as the epic finale, The Twilight Saga: Breaking Dawn — Part 2 hits theaters. Twilight fans – self-proclaimed Twihards – are some of the most passionate and driven fans any genre could ever hope to see. Before the final Twilight movie hits theaters with a worldwide event, Hollywood.com decided to get into the mindset of a Twihard by profiling one of Twilight's biggest fans.
Meet Jamie. A 28-year-old NYC resident originally from Florida, Jamie is Hollywood.com's featured Twihard. We'll be getting to know her and learning all about what a day in the life of a Twihard is like over the next two weeks. We began by focusing on the first days of her life as a Twihard. Now let's find out how she took the above picture, and how many others she has just like it.
Jamie knows she's a Twihard, and she has the experiences and photographic evidence to prove it. "I'm a big fan," she says. "I'm not like a crazy teenage fan, but I've met three vampires, seen one, and met one werewolf. I pride myself on saying that."
While some Twihards fervently believe that vampires and werewolves are real, Jamie has her feet firmly planted on the ground. She is actually referring to the actors who play the mythological creatures in the Twilight saga movies. "I did meet Robert Pattinson [last year], and he was on the checklist of people I want to meet," Jamie says. "My friend works for Letterman and I told her if Robert Pattinson or Radiohead ever got on Letterman you need to help me and I need to meet him!"
Jamie got her wish when Pattinson appeared on David Letterman on Nov. 8, 2011. "I remember going to my boss and saying, 'Look, remember I told you that if I ever have a chance to meet Robert Pattinson… ' And before I could finish she was just like, 'You're turning red, you can go.' I got there really, really early because I was just paranoid. There were these little girls standing next to me with their mom, and he came and he took pictures with these little girls and then the mom was like, 'Oh, me too!' And I was like, wait, what? And he was about to walk away, so I had to say, 'No I'm sorry, I'm a big fan. Can I get a picture?'" Her persistence paid off, and Jamie got her picture with Pattinson, which she proudly displays at work by her computer. But that picture wasn't the only one that got attention after that day.
"Apparently, because I was wearing red and blocking the paparazzi, I ended up in all these pictures," Jamie says. "I didn't know until the next day when somebody was on Popsugar.com, she was like, 'Jamie Jamie is on Popsugar!' So I started looking up all these fansites and realized I was on, like, six or seven of them. In one picture it looks like we're a couple. In others it literally looks like I'm his publicist. Like, I have a paper in my hand and I'm showing him where to go. They're funny candid photos. It definitely was the best moment."
And if Pattinson was one of the vampires she met, who were the others? "I had a really fun moment where I met Kellan Lutz [Emmett Cullen] by accident when the movies first came out. That was another really awesome moment," Jamie says. How did the meeting go down? She was at a club in Miami with a friend when they noticed 90210's AnnaLynne McCord, who was dating Lutz at the time. "I saw her and then I saw Ashley Greene [Alice Cullen], and I turn around and I see Kellan Lutz. I said, 'Oh my god, you're from Twilight!' It was very organic," unlike her "surreal" experience meeting Pattinson. "It's just one of those things where you think it's never going to happen. It was the highlight of my year."
Along with Pattinson, Lutz, and Greene, Jamie has also met Jackson Rathbone (Jasper Cullen) and she's seen evil vampire Jane (Dakota Fanning), from afar. "I saw Dakota Fanning on the street once," Jamie says. "I was like, 'Oh, that girl has cute shoes,' and then I realized that it was Dakota Fanning! I didn't say anything to her but everyone else I actually met and took a picture with, so it's pretty cool."
Jamie knows that she has met more than her fair share of the vampires that make up the world of Twilight, and she's content with that. "As far as the cast goes, I think I'm pretty set," Jamie says. "I met all the big ones. It would nice to meet all of them but if it doesn't happen that way I think I've done my quota. I've met more than most people who don't work in publicity have." But if she could meet any other member of the Cullen family, who would it be? "Peter Facinelli [Carlisle Cullen] wouldn't be such a bad thing," Jamie says laughing.
Even though Jamie is passionately Team Vampire, she wouldn't pass up the chance to meet the werewolf caught up in a love triangle with a human and a vampire. That's right, along with all the Cullens she has met, Jamie also met Taylor Lautner at an MTV event in Los Angeles in 2008. This was back when Lautner had yet to bulk up in the fight to keep his role for the second movie, New Moon, in lieu of a taller, beefier actor. "He was so tiny," Jamie says. "And people were so worried about him being able to play Jacob. And I was like, he's going to go through puberty in, like, five minutes." 
In
New Moon
, Jacob begins his transition from human to werewolf, and his body changes rapidly. He has a massive growth spurt, and bulks up in a short amount of time. "Obviously in the books he's supposed to be a little taller, but I think he played the role fine," Jamie says. "He's good-looking kid, he fits the part, I think out of all the characters he's the most enthusiastic about his role. I'm not a Jake fan but I don't hate on Jacob. So I do think that was a smart decision [keeping Lautner on as Jacob]. [His muscle gain] was unbelievable. I show people pictures of when I met him and they're like, what? He was like a little baby and now he bulked up. He definitely worked for that. It's funny to see how much he bulked up… and how much Robert Pattinson didn't."
Despite the fact that Pattinson is her favorite, Jamie does admit that the actor's performance skills leave something to be desired during some key Twilight moments. But if Pattinson didn't play Edward, who could have embodied the role better? "I thought about that so many times," Jamie says. "I think Robert Pattinson has the look. I think he's gorgeous and I think he definitely going to become a better actor but I think this was just a very new role for him. Friends and I have definitely played the game of who could play who, but we're always stumped with who else could play Edward. There was just no one in their early 20s that could have fit that role. No one really wanted a 17-year-old boy to play a 17-year-old vampire. We wanted it to be someone that was a little more mature than, like, Justin Bieber."
When it comes to the other roles, Jamie is much more decisive with how to cast better actors. Like many Edward fans, "I don't like Kristen Stewart," Jamie says. And the actress' recent cheating scandal certainly didn't help. "Just tramp. Tramp!" Jamie says. "She's just stupid because this girl spent so much time talking about how her life is private and she doesn't want anybody to talk about her dating and all that stuff and then goes and cheats and then makes a public apology. And I'm like, 'You're an idiot.' Then when I heard they got back together, I was like, 'I'm done with him!' I have no respect for him anymore if he took her back."
Jamie isn't sure whether or not Stewart and Pattinson's relationship is real or fake, but it doesn't change her opinion of Stewart either way. "Whether it's a publicity stunt or not, she just sucks," Jamie says. "I'm not a fan of her. She always has the same facial expressions. And I mean, she couldn't keep her pants closed before this movie was over? She couldn't have waited six more months?"
Read the first of this four part series here, and stay tuned to read more about Hollywood.com's Twihard, Jamie Jamie, as A Day in the Life of a Twihard series continues on Nov. 14.
Follow Sydney on Twitter @SydneyBucksbaum
[Photo Credit: Jamie]
More:
'Breaking Dawn – Part 2': Taylor Lautner Stinks in New 'Twilight' Clip — VIDEO
New 'Twilight: Breaking Dawn 2' Clip: Kristen Stewart Can't Stop Jumping, Kissing
New 'Twilight: Breaking Dawn – Part 2' Clip: War is Coming
From Our Partners:

(Moviefone)