'Breaking Dawn – Part 2' Countdown: A Day in the Life of a Twihard – PART 3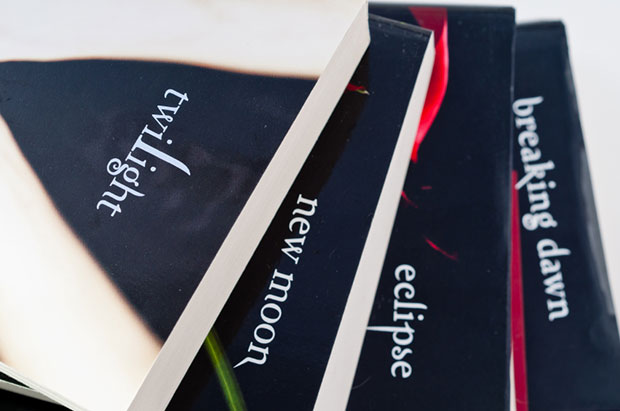 On Nov. 16, Twilight fans around the world will say goodbye to their favorite saga as the epic finale, The Twilight Saga: Breaking Dawn — Part 2 hits theaters. Twilight fans – self-proclaimed Twihards – are some of the most passionate and driven fans any genre could ever hope to see. Before the final Twilight movie hits theaters with a worldwide event, Hollywood.com decided to get into the mindset of a Twihard by profiling one of Twilight's biggest fans.
Meet Jamie. A 28-year-old NYC resident originally from Florida, Jamie is Hollywood.com's featured Twihard. We'll be getting to know her and learning all about what a day in the life of a Twihard is like over the next two weeks. We began by focusing on the first days of her life as a Twihard, and how she has met most of the cast. Now let's find out how she feels about each one of the books and movies and how she prepares for the movie premieres.
Every Twihard has his or her favorite book in the Twilight saga, and the answer is always different from fan to fan. Jamie's favorite is the one that got her into the saga in the first place. "Twilight is my favorite book," Jamie said. "I've read the entire book three times, but I'll read parts of it over and over again. I think when I'm rereading Twilight the point I always go to is after they get over this fear of each other because they're both afraid of each other, and they're both just comfortable, right around that meadow scene. I always loved that in Twilight."
While the first book is her go to in the series, her favorite movie is the second one. "I think I've seen New Moon like five or six times," Jamie said. "I might have seen New Moon in theaters like two times and maybe watched it like three or four times at home. It is just my favorite. And I listen to the soundtrack sometimes at work."
While Jamie loves all the movies in the saga, and the first book is her favorite, she felt the movie version had a couple growing pains. "I didn't want to feel the way I felt because I cringed a little bit. It's hard to say why," Jamie said. "I felt the color was off. The tone, the cinematography, the way the words were delivered, I felt that everything was off. But I wasn't going to give up because I knew that it was going to take off and I knew it was going to get better." And in Jamie's eyes, it did. "Absolutely, it got better. I mean, New Moon is my favorite movie!" Jamie said. "The music, the tone, the way all the lines were delivered. Twilight might have been my favorite book and New Moon was my favorite movie but I think the quality of the movies just got better. Definitely working in the makeup and TV industry you notice things like that, like the hair and the makeup and the wardrobe got so much better as the movies went on. I now watch Twilight and laugh. I love it, I hate it, it's just mixed feelings about it."
Looking back, what does Jamie think could have made the first movie better? "Midnight Sun [the unfinished manuscript telling Edward's side of Twilight] had so many back stories from Edward's side that I would have liked to see in the movie," Jamie said, "and I feel like if they can ever go back and do anything over again maybe they could just make his version of Twilight and that could redeem the first movie. I just felt like learning his side of the story just meant so much more and unfortunately that book stopped halfway through." Waiting for what seemed like forever, Jamie's hopes for Midnight Sun never game to fruition. The project was eventually shelfed by Stephenie Meyer after early pages leaked on to the Internet. "It sucks for us, it sucks for her, and I feel bad but I thought that she wasn't helping anybody by not finishing it. I thought it was a great idea for her to say, 'Here it is online, read it.' But it left so many of us with like, oh come on! And she was serious that she wasn't going to bring it back and I was like, 'Lady we need this. Do it for the fans!'"
The recent announcement from Meyer that there might be more Twilight universe books got Jamie thinking about what she'd like to see in future books. "At the end with the whole wolf pack, there were just so many unanswered questions," Jamie said. "And there was one werewolf girl that ends up alone and I would like to see something happen to her. Leah Clearwater, I'd like to see Leah. It was just kind of sad. I mean, why didn't her and Jacob imprint on each other? She ends up all by herself. I felt kind of bad for her. She really got the short end of the stick. But maybe [Meyer's] writing a book about her."
Every Twihard has a favorite when it comes to the main love triangle between Edward (Robert Pattinson), Bella (Kristen Stewart) and Jacob (Taylor Lautner), but Jamie has another, less-popular favorite. "I love Edward, but you gotta love Jessica [Anna Kendrick]," Jamie said. "It's just humor. In the movies she's not in it enough but I feel like out of all the characters in the book I'm Edward through and through."
Now that the final movie is approaching, Jamie reminisced about her past experiences and traditions going to the premieres of each movie. "For the first movie we waited in line, we had our shirts on — my friend and I get a shirt every year — and we were so excited," Jamie said. "I remember telling the audience, 'I've waited for this! Everyone's going to be quiet!' Because you know there's these obnoxious people who scream during the movie. I've seen all of them a few times in theaters, and for the second one my friend and her husband and I waited in line at midnight. And then the third one we waited in line again. And the last one I was working and we couldn't see it at midnight so we actually went the next day." Did Jamie notice any major differences between seeing the premiere at midnight and seeing it the next day? "It was actually more crowded on Friday than it was the night before," Jamie said. "We waited again for two hours in line to watch the movie. We could have watched it two days later and it would have been just as good. But it's all about getting there and seeing it first! It's the hype. There are definitely movies I can wait for, but I need to see Twilight within the first 24 hours of it coming out."

While some fans may camp out at the theater for days before the release, Jamie put a limit on how long she would wait in line. "Two hours is my limit," Jamie said.
And as for those shirts she wears to each premiere, sometimes Jamie buys them, and sometimes she and her friends make them. "The first year I had one that said 'Fanpire.' The second year I bought one that had Alice [Ashley Greene] on her corvette driving through Italy. We got desperate for the third one so we bought Edward shirts. And then my friend and I made them last year for the movie." What is Jamie planning on wearing for the premiere of Breaking Dawn – Part 2? "Unfortunately I haven't had time to make one yet this year," Jamie said. "I might have to do a repeat this year for the last one. I feel like because it's Breaking Dawn – Part 2 I can just wear the same one I wore last year. It's a fun little tradition. We go with our shirts and we take a picture in front of the posters."
Along with all of her Twilight-themed shirts, Jamie has collected quite a good amount of Twilight swag over the years. "My best friend thinks it's funny to buy me Twilight things," Jamie said. "She bought me a lunch box once and for my birthday a few years ago she bought me a cardboard cutout of Edward. My handyman came in and thought he was a real person, so we had to hide him behind a bookcase! And my friends always buy me cards and magnets." Her friends aren't the only ones buying her merchandise though. Jamie also treats herself. "I went to Jamba Juice the other day and they had slap bracelets," Jamie said. "I have a picture of me and Robert Pattinson behind my computer at work. I have a Twilight birthday card at work. I have all the books, they're all on my bookshelf. There's all kinds of Twilight stuff on my desk. I do also have a few signed books from them. I might try to get a signed one again this year. People are always like, 'Why do you have two Eclipses?' I'm like, 'Because one of them is signed, why are you asking?!?'"
Jamie is no stranger to midnight premieres, but if there is one thing she could live without it's the madness and insanity midnight releases bring. "I've done the midnight thing when all of these girls just ran in there and some girl pushed me," Jamie said. "Some girl trampled me and I ended up pushing her back and I'm like, 'I'm not getting into a fight with another teenager!' There was an earthquake at the last one where we literally thought we were going to die, and a fight broke out. I was like, 'I just can't. I love these movies and I want to see them but I do not want to handle the drama of running into the theater.' It's psychotic. I can't deal with it."
Jamie knows what drives the fans to act so crazy at midnight premieres. "It's the whole idea of 'I have to get a good seat!' I know that I'm that person that is just like, I have to get a good seat, but you have a very mixed group of demographics and they can't behave themselves. I remember going to see Sex and the City and a fight broke out. Women cannot control themselves when they're going to see a big movie. I get hyped up but I don't get pushy and shovey, but if you push me I will push you back. And I mean, why do you need to scream every time someone takes their shirt off? He's not going to scream back at you. It ruins the movie [because you can't hear the dialogue]. And that's why you have to go see it again, I think." Jamie plans to avoid all that craziness this year and has tickets to see Breaking Dawn – Part 2 on Friday.
Read the first of this four part series here, the second part here, and stay tuned to read more about Hollywood.com's Twihard, Jamie Jamie, as A Day in the Life of a Twihard series concludes on Nov. 17.
Follow Sydney on Twitter @SydneyBucksbaum
[Photo Credit: iStockphoto; Amazon]
More:
'Breaking Dawn — Part 2' Countdown: A Day in the Life of a Twihard — PART 1
'Breaking Dawn — Part 2' Countdown: A Day in the Life of a Twihard — PART 2
Want to Watch the Final 'Twilight' Red Carpet Live? — VIDEO
From Our Partners:

'Twilight Saga: Breaking Dawn — Part 2' Star Kristen Stewart on 'Twilight' Finale: I'm 'Desperate' For a Job Now (VIDEO)
(Celebuzz)