'Breaking Dawn – Part 2' Star Peter Facinelli Is Going to Miss Stunt Training with the Cullens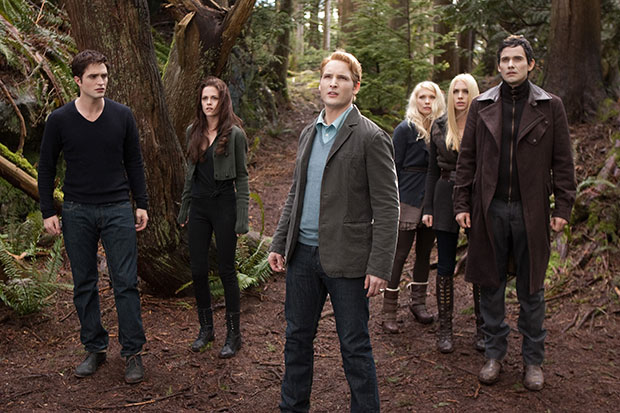 It's the ending of and era, and with every ending, there comes a set of goodbyes and a time to look back and reminisce. As the debut date of the final installment of the Twilight franchise — The Twilight Saga: Breaking Dawn – Part 2 — nears, the stars of the movie are starting to make their final promotional rounds. It has been during this time that Kristen Stewart and Robert Pattinson have openly talked about how they are going to miss their co-stars. Now, Peter Facinelli joins the pack for one last hurrah as he talks to Hollywood.com about his favorite outdoor memory of filming these unforgettable movies.
For Facinelli, the time spent on set was all about his family, his on-screen vampire family, the Cullens, that is. "I would have to say [my favorite memory is from] Eclipse, for sure, because we had so much battle sequences out there in the woods," he tells Hollywood.com (at the SEARS launch of Outdoor Life Branded Sportswear in NYC's Times Square Oct. 11). "Every day we would get together in the mornings and have stunt training, so it would be kind of like two-three hours. That's how you really get to know people when it's early morning. It's just literally working out together and training together. It really bonded us."
Facinelli also loved the fact that he got to work outdoors. "Most of the clips were shot out in the woods," he says. "It was like literally camping for months."
But now Twilight fans are left with one movie to look forward to as Breaking Dawn – Part 2 drops in theaters next week. "There are some surprises in Breaking Dawn – Part 2 that are a little different from the book," Facinelli says of the final flick. "I don't want to spoil them from you, but there are some shocking moments. I think Carlisle is part of one of them."
Breaking Dawn – Part 2 hits theaters on Nov. 16.
Follow Lindsey on Twitter @LDiMat.
[Photo Credit: Summit Entertainment]
More:
'Twilight' Retold Through Werewolf Chaske Spencer's Eyes
Late Night Last Night: Kristen Stewart on 'Leno' Vs. Robert Pattinson on 'Kimmel'
New 'Twilight: Breaking Dawn 2' Clip: Kristen Stewart Can't Stop Jumping, Kissing
From Our Partners: