'Breaking Dawn – Part 2': Taylor Lautner Stinks in New 'Twilight' Clip — VIDEO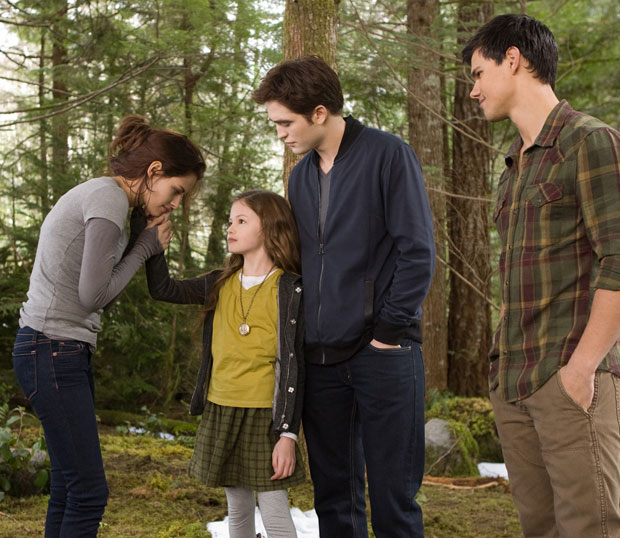 "It's safer for the baby to see how you do with me first?" – Jacob
"Since when do you care about Renesmee?" – Bella
Awkward.
Thanks to the drawn out pace of its dialogue and lingering love triangle that never quite resolved, it's impressive that the Twilight movies have room to become even more uncomfortable. Rigid drama is a quintessential part of the franchise — so much so that instead of attempting to fix it for the finale, Breaking Dawn – Part 1 director Bill Condon amped it up. A new clip from the follow-up, The Twilight Saga: Breaking Dawn – Part 2, reveals just how sticky the situations will get. Awkward.
When we pick up with the Twilight crew, Bella (Kristen Stewart) and Edward (Robert Pattinson) have tied the knot and closed the door on any romantic chance for Jacob (Taylor Lautner). To make matters worse, Bella's given birth to a rapidly growing daughter, Renesmee, and to save her life during child birth, Edward turned her into a vampire. In the final moments of Part 1, we see Jacob wrestle with the idea of killing Bella's daughter. Instead, he imprints on her — basically, he's genetically caused himself to fall in love with a baby. Awkward.
The below clip debuted as part of the first ridiculous and impressive seven minutes that premiered at San Diego Comic-Con, a reel that featured Bella awakening from vampire sleep and heading out to hunt for the first time. Jacob's appearance at the end of the footage — now revealed in this clip — immediately brought Twilight back to the reality of Part 1's creepy conclusion. Bella doesn't know about the imprint, but we do. Which is why when Bella starts smelling Jacob, her nostrils flare. Something is up. Awkward.
Watch the clip below and prepare for the awkward awesomness of The Twilight Saga: Breaking Dawn – Part 2 which hits theaters November 16.
[Photo Credit: Summit Entertainment]
Follow Matt Patches on Twitter @misterpatches
More:
New 'Twilight: Breaking Dawn – Part 2' Clip: War is Coming
Comic-Con 2012: 'Breaking Dawn – Part 2' Footage — The First 7 Minutes
'Twilight Saga: Breaking Dawn – Part 2' Shows Off Bella's Wild Side — PICS