'Breaking Dawn, Part 2' To Take Huge Final Bite of Box Office!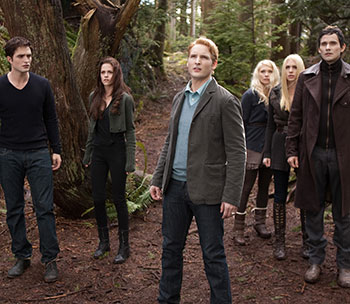 $2.5 billion in worldwide box office (over a billion dollars domestically) and (thus far) two of the top five biggest single-day grosses of all-time make the Twilight franchise among the most successful in cinematic history.
With a legion of teenage females fans propelling this romanticized vampires and werewolves big screen soap opera to record-breaking heights, the characters of Bella Swan, Edward Cullen and Jacob Black are at the heart of what for many young women has become their touchstone movie event. Twilight almost single-handedly ushered in the era of the teen girl as the newly coveted movie audience; the box office clout wielded by this formerly ignored and undervalued demographic has made Hollywood wake up and take notice.
[Not to mention the boyfriends of this important demographic who have also contributed big money to the cause while reluctantly (or sometimes willingly) accompanying their dates on Twilight movie-going excursions. (This latest film even boasts a very long, very guy-friendly battle sequence that may cause its own "Hunger Games effect"** on the box office.) **Hunger Games effect – Wherein male moviegoers begrudgingly find much to like about a movie seemingly aimed at the female demo.]
And notice they will again as the latest and final installment of the franchise The Twilight Saga: Breaking Dawn, Part 2" from Summit Entertainment (a Lionsgate company) will top the weekend with a likely franchise-best debut of $150 million in a whopping 4,070 theaters in North America. With 10pm previews on Thursday night followed by expected massive midnight screenings that begin at 12:01 am on Friday, the film will be off to a rousing start and by Sunday night could become the fourth $150 million plus opener of 2012 (joining The Hunger Games, The Avengers & The Dark Knight Rises). The film will also open internationally day and date with the North American launch in 61 territories around the globe on approximately 11,923 screens making this Summit's largest day-and-date opening for the franchise.
UPDATE 12/16: THE TWILIGHT SAGA: BREAKING DAWN Part 2 from Summit Entertainment grossed an estimated $30.4 million from Thursday night and midnight shows in North America.
Check out the following Twilight stats from Hollywood.com Box Office:
THE TWILIGHT SAGA: BREAKING DAWN, PART 1 – EIGHTH BEST OPENING WEEKEND OF ALL-TIME, FIFTH BEST SINGLE-DAY GROSS, THIRD HIGHEST GROSSING MOVIE OF 2011, SECOND BIGGEST OPENING WEEKEND OF 2011 & THIRD BEST MIDNIGHT DEBUT OF ALL-TIME($30.3M) – Opening Wknd. – $138,122,261 Domestic Gross – $281,287,133 Opened – Fri, 11/18/11
THE TWILIGHT SAGA: ECLIPSE – FOURTH HIGHEST GROSSING MOVIE OF 2010, SEVENTH BIGGEST SINGLE-DAY GROSS OF ALL-TIME ($68.5M) & FOURTH BEST MIDNIGHT DEBUT OF ALL-TIME ($30.0M) – Opening Wknd. – $64,832,191 Domestic Gross – $300,531,751 Opened – Wed, 6/30/10
THE TWILIGHT SAGA: NEW MOON – FOURTH HIGHEST GROSSING MOVIE OF 2009, BIGGEST OPENING WEEKEND GROSS OF 2009, FOURTH BIGGEST SINGLE-DAY GROSS OF ALL-TIME ($72.7m), SEVENTH BIGGEST OPENING WEEKEND OF ALL-TIME & FOURTH BEST MIDNIGHT DEBUT OF ALL-TIME ($26.27M) – Opening Wknd. – $142,839,137 Domestic Gross – $296,623,634 Opened – Fri, 11/20/09
TWILIGHT – THE ONE THAT STARTED IT ALL – Opening Weekend – $69,637,740 Domestic Gross – $192,769,854 Opened – Fri, 11/21/08