'Brave' Co-Director Calls Merida's Princess Makeover 'Atrocious,' 'Blatantly Sexist'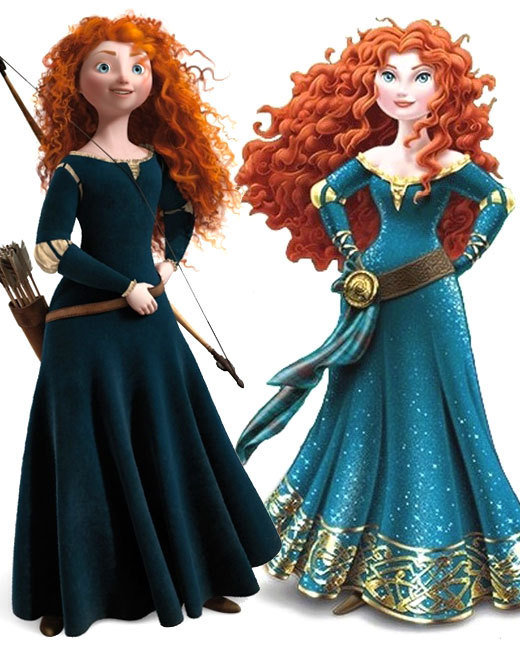 Merida, the bow-wielding heroine of Disney Pixar's Brave, is the newest inductee into the elite Disney Princess club. But in order to accept the honor, Merida first had to undergo an extreme makeover of sorts: her waist was trimmed, her dress bedazzled, and her eyelashes tinted. Brenda Chapman, Brave's writer and co-director, is outraged at the changes. 
Chapman wrote to the Marin Independent Journal on Saturday to express her disgust. "I think it's atrocious what they have done to Merida," she writes, going on to call it "a blatantly sexist marketing move based on money." 
Chapman, who won an Oscar for her work on Brave, continues, "When little girls say they like it because it's more sparkly, that's all fine and good but, subconsciously, they are soaking in the sexy 'come hither' look and the skinny aspect of the new version. It's horrible! Merida was created to break that mold — to give young girls a better, stronger role model, a more attainable role model, something of substance, not just a pretty face that waits around for romance."
Of course Merida had to be adapted slightly to account for the translation from digital to a more traditional animation look. But did she need to lose 10 pounds and gain five years? Nah. We're sticking with Chapman and the 100,000+ signers of her Change.org petition to Robert A. Iger, Chairman and CEO of the Walt Disney Company. "[Disney] been handed an opportunity on a silver platter to give their consumers something of more substance and quality — THAT WILL STILL SELL — and they have a total disregard for it in the name of their narrow minded view of what will make money," Chapman writes to the Journal. "I forget that Disney's goal is to make money without concern for integrity. Silly me." 
Follow Abbey On Twitter @AbbeyStone
More:
'Brave' Lass Merida Changes Definition of 'Disney Princess'  
'Brave' and the Princess Problem
Does 'Brave' Empower Girls at the Expense of Boys? 
---
From Our Partners:


What Happened to 33 Child Stars (Celebuzz)


40 Most Revealing See-Through Red Carpet Looks (Vh1)