Brian Helgeland & Robert Redford Team To Make Jackie Robinson Biopic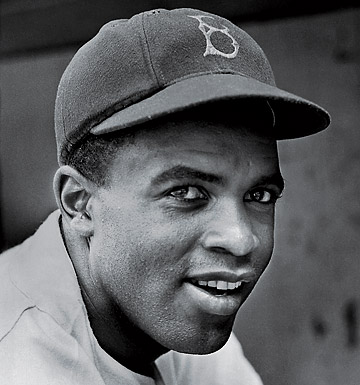 Hollywood has produced some wonderful films set in the world of Major League Baseball, but many of them have been works of fiction. Bull Durham comes to mind, as does Field Of Dreams and The Natural, but in my opinion some of the best stories that can be told about America's Favorite Pastime are the one's about the real-life sluggers. This September, Sony and director Bennett Miller (Capote) are bringing audiences Moneyball, a drama about the Oakland Athletics' GM Billy Beane, and while the film stars Brad Pitt, Phillip Seymour Hoffman and Robin Wright Penn, it faces the challenge of centering on a relatively unknown figure. Luckily for Robert Redford and writer/director Brian Helgeland (L.A. Confidential), their new joint effort will focus on one of the most well-known and respected baseball players of all time – Jackie Robinson.
The LA Times is reporting that the duo has struck a deal to collaborate on this ambitious biopic, which Redford has been trying to get made for years. He'll co-star in the film, alongside an as-yet-uncast actor who'll play Robinson, as Branch Rickey, the Brooklyn Dodgers executive who discovered and signed the future star. The film is said to focus less on Robinson's role in breaking the color barrier in the MLB and more on his relationship with Rickey, who scholars believe integrated baseball for reasons of both idealism and economics. On their complex friendship, Redford was quoted saying, "no one really knows the Rickey part, the political maneuvers and the partnership they had to share. It's the story underneath the story you thought you knew."
Helgeland will write and direct the untitled film, though its script has already seen Redford and other scribes like John Adams' Kirk Ellis. Production is obviously way off for now, as there are many details that must be sorted out first – chief amongst them being choosing the right actor to play the legendary Robinson. I've long felt that the story of the rise of the Dodgers, from being constantly defeated by the New York Yankees at the World Series from 1947 through 1955, when the team finally beat the Bronx Bombers, is the ultimate baseball underdog tale and Robinson's story fits right into that period. Though I'd rather watch a rousing, decade-spanning rags-to-riches story about one of the most beloved teams in professional sports, Robinson's life is long-overdue for the big-screen treatment and I'm very excited that this film is finally moving forward.
As for who should play Robinson, my pick is Chiwetel Ejiofor, not necessarily because he's the best physical match for the slugger (though with modern make-up practices I could probably play Robinson), but because I strongly believe that there's nothing this fantastic British actor can't do. Still, I want to hear your opinions on who should take on this prized part. Sound off!
Source: The LA Times