Brian Taylor to Write/Direct 'Twisted Metal' Flick for Sony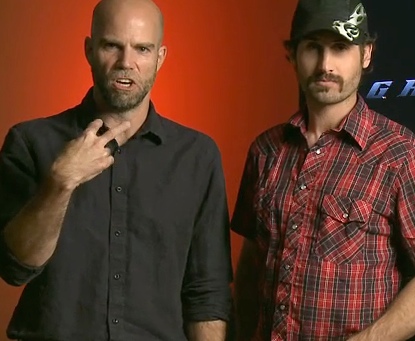 Brian Taylor is ready to go solo. The writer/director, who together with his filmmaking partner Mark Neveldine (pictured right) has given us such adrenalized masterworks as Crank, Gamer, and the upcoming Ghost Rider: Spirit of Vengeance, has signed a "seven-figure deal" with Sony to write and direct a live-action adaptation of the video game Twisted Metal, Deadline.com reports. The game, about a futuristic Death Race-esque competition in which various colorful characters engage in a furious demolition derby, first debuted on the original Playstation back in 1995. It currently ranks as the 162nd best-selling video game franchise of all time, according to Wikipedia, putting it two spots behind Tecmo Bowl. A planned Tecmo Bowl movie is said to be currently stalled in development at Fox. 
Marvel exiles Avi and Ari Arad are on board to produce the project, which Deadline assures us "will include such signature contestant characters as Sweet Tooth, a homicidal clown who drives an ice cream truck, and Doll Face, a young woman who is trapped behind a porcelain mask and who drives an 18-wheeler." Whew!
Source: Deadline.com
Taylor, whose work has often proved indistinguishable from video games, is a perfect fit for Twisted Metal. Check out the trailer for his latest effort, Ghost Rider: Spirit of Vengeance, below: