'Bridesmaids 2' Might Be on the Horizon…Without Kristen Wiig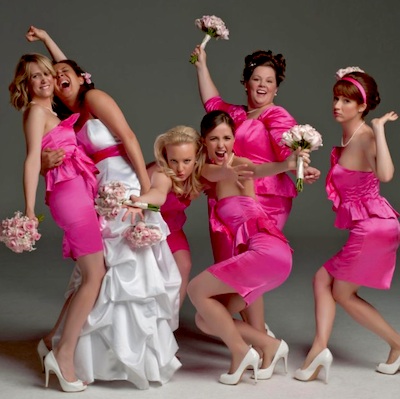 No one expected Bridesmaids to be a success. In fact, that's kind of what made it a success. The fact that there's serious talk of a sequel? A downright miracle.
The raunchy comedy debuted in early May of last year with a relatively unfamiliar cast. Led by SNL star Kristen Wiig, co-starring Maya Rudolph, Ellie Kemper, Wendi McLendon-Covey, Melissa McCarthy and Rose Byrne, and directed by Paul Feig (Freaks & Geeks), the movie was under pressure weeks before it opened. Can a summer comedy driven by females hit big with audiences? Yes. Yes it could.
Raking in $288 million worldwide, Bridesmaids rode the wave of success to year's end (and now there's even awards talk). Now, according to Hollywood Reporter, the bosses over at Universal want another round with the ladies. But there's a bump in the perfect sequel plan: Wiig refuses to return. That doesn't to phase the business folk too much—according to the article, whether Wiig is in or out, a Bridesmaids 2 is still a priority.
I'm conflicted. I enjoyed the heck out of Bridesmaids. I want more… but have no idea what kind of sequel I'd actually want to see (Wiig's Annie's wedding? A trip with the gals a la Hangover 2) or if any idea would actually work. And with Wiig standing strong, stating she's moving on with her Bridesmaids co-writer Annie Mumolo to new projects and wants nothing to do with a follow-up? Well that doesn't make me very happy at all.
To be fair, while I think Wiig is amazing in the movie, I don't think the dynamic of Bridesmaids relies on her. Feig put together one heck of an ensemble, and if he and producer Judd Apatow wanted to spin them off, a Forgetting Sarah Marshall/Get Him to the Greek type situation, I'd guiltily be enthusiastic.
Only time will tell, but for now we can dwell on the fact that Bridesmaids 2 is in the works—whether we like it or not.
For some proof that a Wiig-less movie could work, watch these two scenes:
Source: THR