Why Can't We Have a Legitimate Female Spy Movie?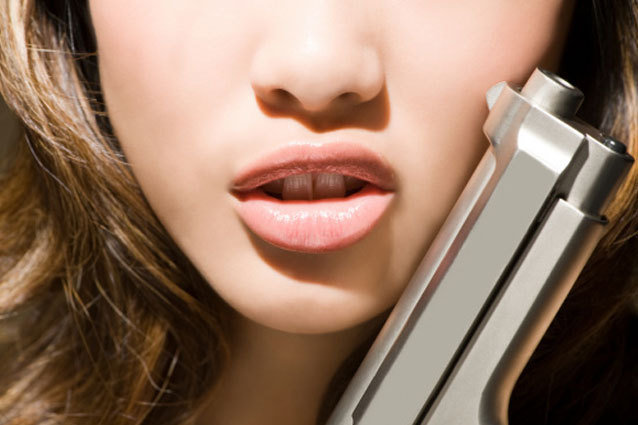 With The Heat set to hit theaters on June 28, director Paul Feig has just announced his newest project: a female spy comedy called Susan Cooper. Written, produced, and directed by Feig, Susan Cooper "will be a realistic comedy about a female James Bond," TheWrap reports. It is unclear when the movie will be filmed and released, but for now, Feig is searching for the perfect actress to bring Susan Cooper to life. 
While we are looking forward to another hilarious movie from the man who brought us Bridesmaids, we can't help but ask ourselves: Why does the movie about "a female James Bond" have to be a comedy? And furthermore, why does the Susan Cooper have to be described as "a female James Bond"? Nobody ever says "this politician is like a male Condoleezza Rice" or "this American outlaw is a male Bonnie Parker" (Well, that probably would've been Clyde, but you know what we mean…).
More importantly, the Susan Cooper comedy announcement brings to mind a question we've contemplated before: Where are the serious female spies? Sure, there's Charlie's Angels, but they were a team of sexed up women under the command of an unseen male millionaire and his male liaison Bosley. Even their title as agents is a possessive of this man named Charlie suggests subordination. Where are the independently powerful female spies? We've seen badass female assassins like Uma Thurman in Kill Bill, but she's not really a James Bond-esque spy. Hell, she doesn't even have a name (other than the gender-normative moniker of "The Bride") until the end of the second movie. Then, there are the strong, smart, and savvy women in more recent films, like Zero Dark Thirty and Salt. But Jessica Chastain and Angelina Jolie were playing fictional CIA agents (i.e. the closest real examples of female spies). Where is the female version of the dashing, dapper 007?
Ultimately, Paul Feig's attempt to fill the female James Bond void is disappointing. To be fair, we have no problem with the idea of this Susan Cooper, a funny female spy in a comedy film. And it's true that the same report from TheWrap stated that this will be "a realistic comedy … rather than a parody along the lines of Get Smart or Johnny English." But the word "comedy" is still a little problematic. So please, Paul Feig, don't call Susan Cooper "a female James Bond."
Follow Caroline on Twitter @carolinesb | Follow Hollywood.com on Twitter @Hollywood_com
More:
James Bond's Next Mission Gets a Title
'Bridesmaids' Duo Judd Apatow & Paul Feig to Re-Team
Why Isn't There A Female Equivalent of James Bond?
---
From Our Partners


Stars Pose Naked for 'Allure' (Celebuzz)


20 Grisliest TV Deaths of 2012-2013 (Vulture)