'Bridesmaids" Mumolo and 'SNL's' Smigel Nab Roles in 'Knocked Up' Sequel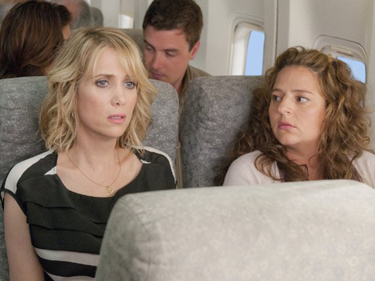 After decades of being unappreciated, shafted into the background, cast away as meaningless crewmembers, writers are finally getting their moments in the spotlight. All-around good-news-guy Judd Apatow, who's working on his perpetually untitled Knocked Up sequel, just cast Annie Mumolo and Robert Smigel, two of his writer friends and past collaborators, in acting roles for the flick.
You may not recognize their names or faces, but you're definitely familiar with their work. Mumolo co-wrote Bridesmaids with star Kristen Wiig. Mumolo actually played a small role as an airplane passenger who dreamed that the plane would crash — which was one of the high points the series of comic events on that plane.
Smigel co-wrote Adam Sandler movies You Don't Mess with the Zohan (with Apatow and Sandler) and the upcoming flick Jack and Jill (enjoy the trailer). He also wrote for Saturday Night Live and Late Night with Conan O'Brien, and is the creator of Triumph the Insult Comic Dog and The Ambiguously Gay Duo. Not too shabby, Smigel.
In this new Apatow film, Mumolo and Smigel will play a married couple who are best friends with the lead characters (Paul Rudd and Leslie Mann reprising their Knocked Up roles).
Though it's not huge news, this is the sort of thing that I hope will become a habit for Hollywood. Some terrific comic actors were writers too: Aykroyd, Murphy, Allen, Fey. Mastering both the creation and performance of comedy is something for which all of these people should be applauded; I look forward to this titleless Apatow film even more now.
Source: Hollywood Reporter