Predicting the Future of Brie Larson's Career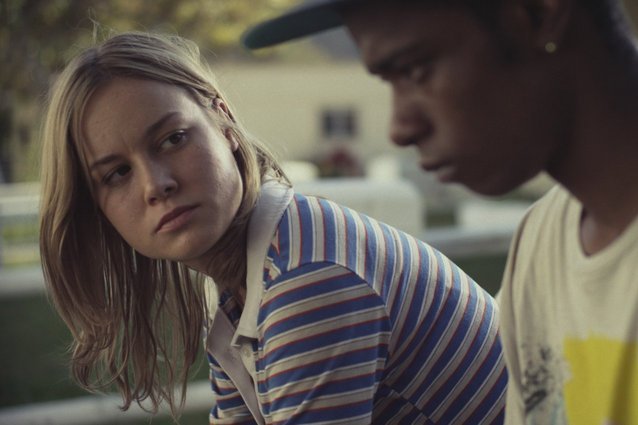 Cinedigm via Everett Collection
Looks like Brie Larson is going to break everyone's hearts once more. The Short Term 12 star has landed the lead role in Room, the big screen adaptation of Emma Donoghue's best-selling novel about a woman and her young son trapped in a single room for years. Room is the fourth high-profile role that Larson has landed recently, after Judd Apatow's Trainwreck, Matthew Quick's Silver Linings Playbook follow-up The Good Luck of Right Now, and Mark Wahlberg's crime drama The Gambler. With such a diverse list of projects on her plate for the near future, it seems as if Larson has a number of possible career trajectories available to her. Will she choose to stick with the quiet indies that have brought her so much acclaim thus far? Will she give up dramas for a while and embrace her comedic side? Is there a major role in a big-budget franchise in her future? 
We've taken a look at Larson's upcoming projects and used them to predict where we see her career headed if they become big successes. No matter what happens, you should get to know Larson's work now, so that you can brag that you knew about her first. 
Room
Although it's hard to predict what direction Room will take (the novel is told from the perspective of five-year-old son), it's clear that Larson has a difficult, emotionally intense role in front of her. We could see her career following in the footsteps of Marion Cotillard, whose Hollywood breakthrough was similarly complicated and layered, and who has gone on to play many more dark and complex characters. Since Larson was rumored to be in the running for a role in the upcoming Terminator film, she should have no problem landing a role in a major franchise, like Cotillard, although we see her in one of the more inventive big-budget films. Perhaps something along the lines of Inception? A Cotillard-like career would also allow her to continue to work in smaller indie films, as well as to mix her serious, weighty projects with lighter fare, in much the same way that Cotillard followed La Vie en Rose with Nine and Midnight in Paris with Rust and Bone. And if we don't see Larson at the Oscars for Room, then it should only be a matter of time before she, like Cotillard, takes home a trophy.
Trainwreck
With Judd Apatow at the helm and Amy Shumer writing and starring, Trainwreck is both the only outright comedy and the most mainstream of her upcoming films. Larson's proven that she can do comedy well, having played supporting roles in 21 Jump Street and United States of Tara, so it wouldn't be much of a surprise if her breakthrough came about as the result of her showcasing those comedic chops. From there, she could stick to comedies, a la Leslie Mann, whose supporting roles in Apatow's projects have allowed her to transition into carrying films on her own. But we think it's more likely that Larson would emulate someone like Sandra Bullock, who has managed to do both comedy and drama. Like Bullock, Larson would probably stick to starring in big-budget comedies for some time (we see her taking on slightly weirder projects like The Heat rather than becoming a rom com darling), before finding the perfect dramatic role to help her transition back into more serious work. Thus far, Larson has managed to balance her roles in a similar fashion to Bullock, so it shouldn't be too difficult for her to find a way to keep a foot in both worlds. Besides, she's so talented and charming that she could easily become the successor to Bullock's "America's Sweetheart" title, as well as being a future Best Actress contender.
The Good Luck of Right Now
Based on the novel by Matthew Quick, who wrote Silver Linings Playbook, The Good Luck of Right Now is a dramedy about four outsiders who come together to form an unlikely family as they deal with pain, loss and major tragedies. Larson would play a librarian who believes herself to have been abducted by aliens, who falls in love with Bartholomew, a 30-something man who is dealing with the death of his mother by writing letters to Richard Gere. The Good Luck of Right Now is a quirky comedy, with a script by Mike White, and so we could see her following in the footsteps of the queen of independent cinema, Parker Posey. Posey has had a long career that ranges from comedies to dramas and small, independent films to big, studio ventures, and since Larson seems to be interested in working on a wide range of projects, including Dazed and Confused and the comedies of Christopher Guest, it seems likely that she might be headed on a similar career path. Posey is also every popular show's go-to guest star, with a particularly memorable appearance on Louie and Parks and Recreaction. With stints on Community and The Kroll Show under her belt, it seems like Larson might already be following in her footsteps. Plus, Larson's got the "endearingly quirky" thing down, so she should have no trouble becoming Hollywood's new indie darling. 
The Gambler
In this remake of the 1974 James Caan film, Larson will play the female lead opposite Mark Wahlberg, who will take on the role of a professor whose gambling habits threaten to ruin the lives of him and everyone he care about when he gets in over his head with some loan sharks. It's a dark, gritty supporting role, and we don't see Larson being brushed off as just another "supportive girlfriend-type." Instead, we predict it could set her on an Amy Adams-type career path, as Adams managed to transform another "girlfriend" role in The Fighter into one of the most compelling characters in the film. Although Adams was a more established actress at the time, there are a lot of similarities between her and Larson, from their breakthrough roles in quiet, realistic indies (Junebug for Adams and Short Term 12 for Larson) to their penchant for goofy, over-the-top comedies (Talladega Nights and The Muppets vs. 21 Jump Street) it seems an apt comparison. Emulating Adams would allow Larson to continue to take darker, serious roles in both big-budget and indie films without having to totally abandon her comedic side, and since critics are already predicting that she will soon be an Oscar fixture, Adams seems like an ideal career role-model for Larson.