Brooklyn Decker Boards 'Battleship'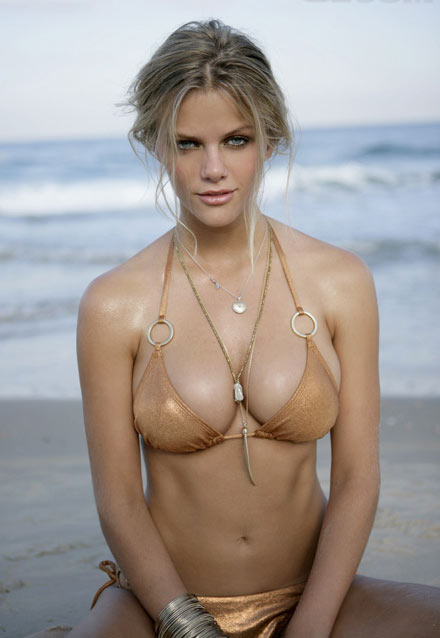 Models are in high-demand in Hollywood these days – and not just as escorts for dweebs that can't get their own dates for movie premieres (I'm looking at you Scott Pilgrim). Specifically, the stable of seductive ladies under contract with Victoria's Secret have been very fortunate, starting with Rosie Huntington-Whiteley getting "transformed" into an "actress" for Michael Bay's upcoming Transformers threequel and continuing on today, as her colleague Brooklyn Decker has officially enlisted in Universal's Battleship.
According to Latino Review, Decker will be playing Sam, a hopefully barely-clothed piece of eye-candy who will join recording artist Rihanna as the female leads of the film. I guess that director Peter Berg's casting philosophy is "two hot chicks = half an actress". That hardly justifies his absolutely ridiculous train of thought, but my guess is that, with the studio spilling hundreds of millions of dollars into this production, they need to save money on talent and beef up the special effects so hiring real actors is out of the question. Either that or they figure, "hey, it worked for Paramount, maybe it'll work for us!"
Despite the lack of bankable females in the film, Battleship stars Taylor Kitsch and Alexander Skarsgard as brothers who engage in a global military offensive against an alien invasion. Though not exactly household names, both of these young men have a following – Kitsch is arguably the best thing about NBC's Friday Night Lights (which Berg executive produces) and played fan-favorite Gambit in X-Men Origins: Wolverine.  When Battleship is released on May 18th 2012, he'll also have another mega-sized film ready to bow just weeks after – Disney-Pixar's John Carter of Mars. As for Skarsgaard, if the studio is smart they'll cut their first teaser trailer for the film with nothing but footage of him shirtless to ensure that both male and female Fangbangers are aware of his presence in the picture. That's good for at least a couple of million bucks, don't ya think? My point is, by the time the film hits theaters, Decker and Rihanna may not matter: the boys of Battleship will probably sell the tickets.
Source: Latino Review