Budweiser Runs Dry on 'Flight': Film Asked to Remove Beer Logos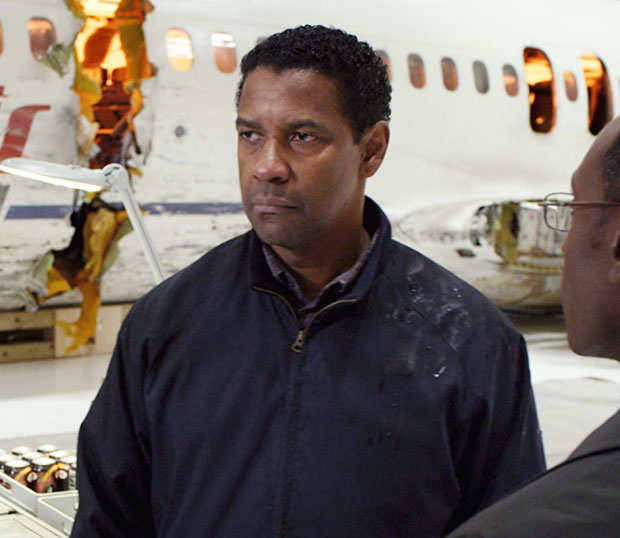 Over the course of the past decade, alcohol companies have adopted the practice of advising clientele to "drink responsibly." This means never overindulging, never getting behind the wheel of a car, and especially never topping off with a few lines of blow and piloting an airplane right through the steeple of a church. As such, the Anheuser-Busch brewery isn't too keen on the depiction of its product in the new Denzel Washington movie Flight.
In the drama film, Washington plays an alcoholic pilot who satisfies his addictive desires with, among other things, bottles of Budweiser. Apparently, Anheuser-Busch has taken issue with this association of its popular line of beer with a destructive character like Washington's Whip Whitaker, and alleges never to have authorized permission for Paramount Pictures to display its product in the movie. Hollywood.com has obtained the below statement from Anheuser-Busch Vice President Rob McCarthy:"Anheuser-Busch had no knowledge of the use or portrayal of Budweiser during production or post-production of the Paramount film, Flight, and was never contacted by the studio. We would never condone the misuse of our products, and have a long history of promoting responsible drinking and preventing drunk driving. It is disappointing that Image Movers, the production company, and Paramount chose to use one of our brands in this manner."According to Yahoo, the company is asking Paramount to obscure all Budweiser logos in existing digital and all future copies of the film.
[Photo Credit: Paramount Pictures]
More:
In the Event of These Airplane Movie Emergencies…
'Flight' Star Melissa Leo on Denzel Washington: 'He Was Deep In His Whip Whitaker'
'Wreck-It Ralph' Proves Bad Guys Finish First, 'Flight' Soars Above 'Argo'
From Our Partners: