Bugs Bunny Returns To The Big Screen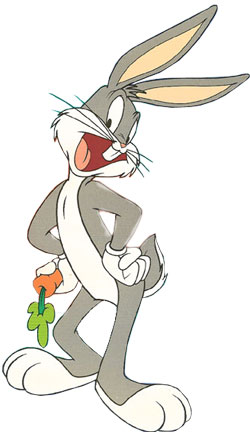 It looks like it might be rabbit season in Hollywood. Animation icon Bugs Bunny is coming back to big screens in a live action/CGI hybrid reboot, courtesy of Warner Bros. There's no producer attached to the project yet, but Elf scribe David Berenbaum is signed on to write.
As knee-jerk as my reaction against the words "live action/CGI reboot of beloved cartoon" may be, there's no need to panic. At least, not yet. The WB has been taking a more restrained stance on reusing its old characters (it's been a while since the Loonatics Unleashed debacle): it recently produced a trio of Road Runner cartoon which are fairly traditional, for instance. Plus, Berenbaum wrote the scripts for other projects that wound up being surprisingly good, like Elf and The Spiderwick Chronicles. However, my perception may be colored somewhat by fond memories of Michael Jordan/Looney Tunes crossover Space Jam, which was one of my favorite films when it came out (cut me some slack, I was six). I don't want to get anyone's hopes up; this could easily be the the next Garfield, Yogi Bear or even Looney Tunes: Back In Action. But the Looney Tunes helped to set the stage for the smart, inventive animated comedy that's become increasingly popular in recent years. If Bugs eschews the lazy pop-culture references and fart jokes that so often plague cartoon "updates", there's a lot of potential for a Bugs Bunny film to flourish.
Source: Deadline