Cameron Crowe Rom-Com Enlists Rachel McAdams and The Spirit of Ryan Gosling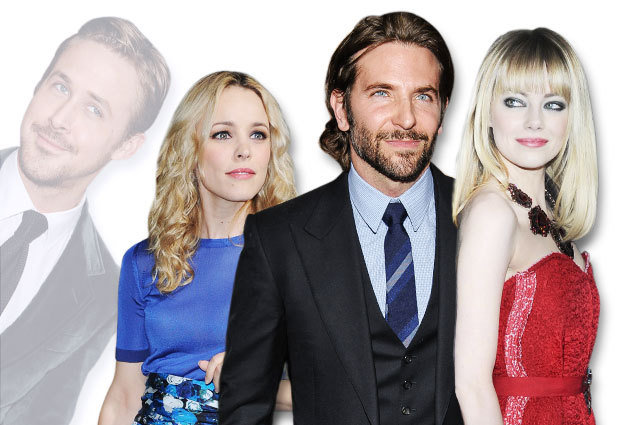 If you listen very closely, you might just hear the words "Hey, girl" whispering in the wind. No, you're not losing it, there's just something magical happening with Cameron Crowe's upcoming rom-com.
Rachel McAdams is the latest name attached to the film, according to the Hollywood Reporter (request for confirmation from McAdams' reps could not be obtained at the time of publication), where she'll join Emma Stone and Bradley Cooper. Suddenly, it's like the Spirit of Ryan Gosling has become infused with this film. 
For those who aren't obssessed with the history of Gosling, he not only made movie history with McAdams thanks to a rain-drenched makeout (and subsequent steamy sex scene) in The Notebook, he romanced the gorgeous gal in real life and even recreated the famous kiss on stage at the MTV Movie Awards. Stone and Gosling have become on on-screen duo so adorable we almost wish they would just leave Andrew Garfield and Eva Mendes in the dust and date each other, but I'm fairly certain the levels of cuteness would reach unhealthily high levels. And then there's Cooper, who recently faced off against Gosling in The Place Beyond the Pines — a move that challenged our notions of just how much handsome one movie could hold. 
When we combine this trio in a rom-com that finds Stone's Air Force pilot falling for Cooper's defense contractor while McAdams' plays the presumably jealous ex-girlfriend, how can we not fill in the space between these actors with a little Gosling? (We are consistently looking for reasons to evoke his name and image. Or is that just me?) Of course, this essence of the Baby Goose might distract from the other connection this movie is forcing us to make: its Hawaii setting, "mystical island forces," and computer with a mind of its own are practically begging us to scream "Lost!" Can we even handle this much pop culture in one place?
Follow Kelsea on Twitter @KelseaStahler
More:
Did Rachel McAdams Win 'Mean Girls'?
Rachel McAdams and Michael Sheen Split: Why Do Only The Good Ones Break Up?
Ryan Gosling Thinks He's a Nightmare – VIDEO 
---
From Our Partners:


Eva Longoria Bikinis on Spring Break (Celebuzz)


33 Child Stars: Where Are They Now? (Celebuzz)