YouTube Superstars Make a Movie: Exclusive Interview With 'Camp Takota' Stars Grace Helbig and Hannah Hart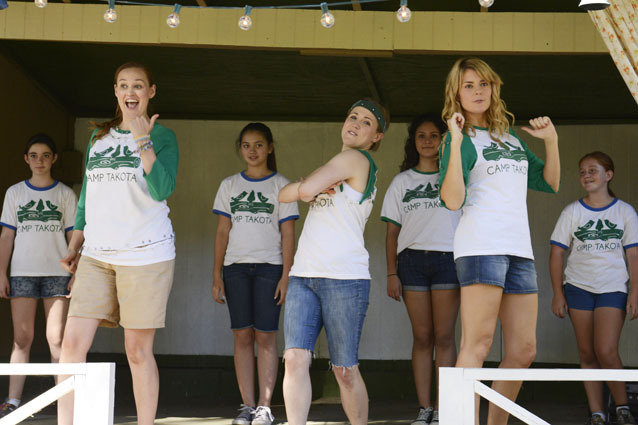 TOP BUNK LLC
What comes after YouTube stardom? For YouTube darlings Grace Helbig, Hannah Hart, and Mamrie Hart (no relation) the answer was the silver screen. Making a movie might not seem like the most natural fit for YouTube vloggers like Grace Helbig (It's Grace), Hannah Hart (My Drunk Kitchen), and Marmie Hart (You Deserve a Drink), but their film Camp Takota came together as if by fate. And it just might help pave the way for other digital superstars to make their filmaking dreams a reality. 
When producer Michael Goldfine was looking to make an indie movie, he knew he didn't want to go through traditional channels. Instead, he started searching YouTube chanels. What he needed to make Camp Takota a reality were a few stars with passionate and excited fanbases to leverage.
Enter the "big three" of YouTube: the two Harts and Helbig enjoy a combined 3.5 million subscribers. All of that Internet love made it much easier to build buzz and raise money for the movie.  Releasing the film online was always the plan, and Camp Takota even took a few pages out of the Kickstarter playbook, including Camp Takota care packages with varying levels of rewards.
With the film set for release on Valentine's Day (Febuary 14) on CampTakota.com, Hollywood.com caught up with stars Grace Helbig and Hannah Hart to discuss the future of indie filmaking and reveal some shocking camp revelations:
What made you three want to make a movie?
Helbig: Mamrie and I have always had hopes of one day making a movie, but we had no idea it would happen last year. The project came about so organically.
Hart: I've always wanted to make a movie with… uh… what are their names again?
How did this project come together?
Hart: Barely.
Helbig: Hannah had a meeting with a producer named Michael Goldfine. She introduced him to me and I introduced him to Mamrie. Mamrie had been working on a script about a girl going back to camp, and Michael happened to have a raging nostalgia boner for a movie about camp. And the rest is history. 
Do you think this method of distribution will be a viable model for other small-scale filmmakers? 
Helbig: I'd like to say yes, but to be honest, this whole process is an experiment for us. We've been lucky to cultivate a very loyal, wonderful audience that we were able to bring into the filmmaking process with us. If this is a success, I think the idea of "traditional media" distribution will start to morph, but who knows. I know I've enjoyed the process and the subscribers seem to as well, and that's success for me. 
Hart: I think this method of distribution is valuable for niche markets and independent creators who have an audience that they are bonded with. Personally, I think it's great for projects that would normally get rejected by traditional forms of investment and distribution.
How was the film making process different from running your YouTube channels? What lessons could you take from vlogging and apply to movie making?
Helbig: One: You don't look into the camera lense. Two: You don't edit the movie yourself. 
Hart: It was different because our lighting technician didn't use lamps like I do. Also, they had tripods that weren't just stacks of books. 
What are you most excited for audiences to see?
Helbig: I'm excited for our audience to see us as actresses. We're not playing ourselves, and that'll be (hopefully) new and exciting for them.
Hart: I am most excited for my audiences to see me try not to look directly into the lens of the camera to explain the plot!
You all have huge followings, what have your experiences with fans been like? 
Helbig: The fans are tremendous, sweet human cupcakes that I want to binge on. Every now and then you get a cupcake with a weird choice of frosting, but overall they're delicious. I think I'm hungry.
Hart: My experiences with fans has been very positive. I mainly use them to cool down. Especially in summer time.
Since Camp Takota is obviously a movie about a summer camp, what are your funniest camp stories? 
Helbig: My funniest story is that I've never been to camp. I missed that memo when I was a child. Pardon me while I text a long-winded post-childhood rant to my mother…
Hart: I never went to camp! But I have been camping. My favorite part was coming home and taking a shower. 
If you got to run your own summer camp for one day, what would that day be like? What kind of activities would your campers have to do?
Helbig: I'd love to provide a lot of activities for kids to be as creative as they want to be. Painting, writing, music, yo-yos, etc. And trampolines. Lots of trampolines.
Hart: If I ran my own summer camp it would be like Burning Man without the drugs. Lots of things to build and people to hug!
Check out the new trailer for Camp Takota: 
Will you see Camp Takota? What do you think of online distribution for indie movies? Share in the comments!