The First Trailer for 'Camp X-Ray' Showcases a Different Side of Kristen Stewart
When you make your name in a huge, international film franchise it can be difficult to get audiences to see you in a different light. When that franchise happens to be as incredibly divisive as the Twilight series, it's going to be even harder to shake the vampire sparkles from your screen persona. It's no surprise then that since wrapping the final film Kristen Stewart has stuck primarily with small, indie films in order to add some variety to her resume and find the chance to leave Bella Swan behind for good. And even if her latest film, Camp X-Ray, doesn't quite manage to do that, it will likely mark a start in a different stage of her career.
In the film, which premiered to positive reviews at Sundance, Stewart plays Private Amy Cole, young guard at Guantanamo Bay who builds a relationship with one of the prisoners that forces her to question both her job and her beliefs. It's a difficult, complex subject – in fact, it might be one of the few topics that cause just as many divided Internet comments at the Twilight series – and based on the trailer it appears as if neither the film nor the cast will be shying away from portraying a lot of those complexities. Stewart in particular seems to bear the bulk of those complicated elements, and the trailer hints at an interestingly subtle performance. Of course, since of the major criticisms of the Twilight series was the stiff, wooden acting that might not sound like a compliment but in Camp X-Ray, Stewart appears to be making deliberately restrained choices, allowing her face to do the majority of the acting. Choosing a part that requires so much focus on what goes unsaid is a risky choice for her, but if it succeeds, it could be exactly what she needs to build a great career.
Amy is a completely different character than anything we've seen Stewart play so far. Having spent most of her career playing teenagers with various degrees of angst, it will be interesting to see her step into a more adult role as a character with a great deal of responsibilities, baggage and conflicting feelings. She's dealing with questions of right and wrong and international law rather than the issues that come with dating a vampire, and she's doing it all in a situation where she's not free to outwardly question authority. Audiences need to see Stewart play complex characters like this in order to finally let go of the awkward, sullen girl they're familiar with, and indies are the best way for her to build up a resume of roles like Amy.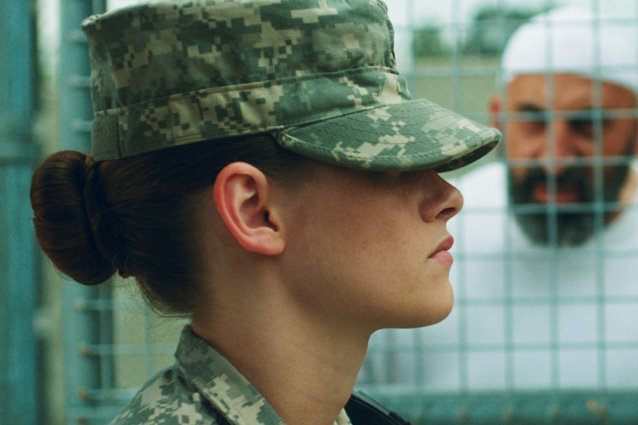 IFC Films
A major studio film is likely going to want to bank of Stewart's fan base in order to produce the next iteration of the Twilight Saga and make absurd amounts of money. Even if she gravitates towards more serious, dramatic films, studios are still going to be hesitant to market her in a role that's completely against-type. After all, audiences know and love Bella Swan, so why change things up? Indies like Camp X-Ray  and Clouds of Sils Maria, however, are less likely to force Stewart into any particular role, as just her presence in the film would be a big enough boost in terms of attention and marketing. Therefore, they're offering her a wider variety of characters that will challenge her as an actress and challenge the audiences' perceptions. They also offer less risk if the final product isn't well-received, as the film probably won't be on most moviegoer's radar.
Stewart's already lined up an impressive slate of films, acting opposite actors like Julianne Moore, Glenn Close and Juliette Binoche. If even one of those films does well enough to garner a decent amount of press attention, it could help audiences take a chance on seeing her in a different light, which will help her move away from Twilight and the baggage that comes with it. They're also likely to help her gain the attention of major directors and producers, who would then be more likely to cast her in a prestigious film, which would also go a long way into changing the way the public sees her. It might even get her some awards attention (hey, Jonah Hill's an Oscar nominee. You never know.)
Even if she doesn't ever make it into the Oscar conversation, films like Camp X-Ray are the best way for her to build a solid, varied career, and that's what tends to keep actors working, and working in great projects. The film might be a complete disaster, but the choices she's making will still be enough to keep her moving towards new characters, new projects and hopefully, new fans. In the end, that's really all an actor needs to build an admirable career.
Camp X-Ray  opens in theaters on October 17.