Can Anything Beat 'Hunger Games' at the Box Office?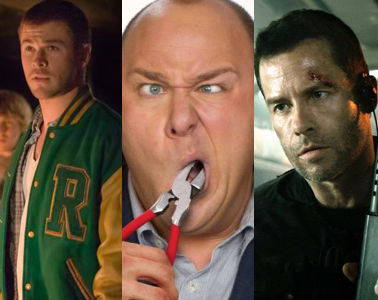 Unlike the days when a movie juggernaut like Titanic could sit at the top of the box office for nearly half a year, a cinematic phenomenon holds on for two, maybe three weeks tops. So you can imagine how the folks in District Lions Gate must be feeling as they approach the fourth weekend of The Hunger Games, after three weeks at number one. According to Hollywood.com Box Office Analyst Paul Dergarabedian, the young adult fiction adaptation should bring in around $20 million over the next three days, for a 24-day total of over $335 million. That's just enough to put it in the Top 25 North American box office performers of all time. Without too much competition in sight (prepare yourselves, Avengers), Hunger Games should continue to climb the ladder of legends.
Joining Hunger Games in the deathwatch arena are three new releases: The Cabin in the Woods, The Three Stooges and Lockout. The trio isn't expected to do gangbusters at the B.O., but Dergarabedian thinks the twisted horror hybrid Cabin (read our review) stands the best chance against Games, taking second with a gross in the low teens. The movie's been gaining buzz since it's SXSW debut, which might help prioritize it for the genre-oriented crowd.
Eye-poking, face-slapping and foot-stomping Cabin for that second spot is Stooges (read our review), which debuted to horrendous reactions, but has been sailing down the critical divide. The PG rating should help Stooges bring in around $10 million by Sunday.
Lockout (read our review) is expected to be the weakest of the bunch, placing just under the top five with around $6 million. Comedic gravity may keep the crazed sci-fi pic from getting off the ground, thanks to continued business to last week's #2, American Reunion. The fourth installment will attempt to contend with its Pie predecessors, serving up a $10 million slice in its second weekend.
Speaking of Titanic, the movie's 3D reissue will continue to perform this weekend, adding just under $10 million to its current $30 million total. Currently, the film's lifetime North American total at $632 million. If, by miracle, the movie grosses another $100 million in its 3D run, it could theoretically take back its position as the number one movie of all time. I wouldn't break a sweat, Avatar.
So which movie will finally take back the number one slot from Hunger Games? Will it dominate all of April?
Find Matt Patches directly on Twitter @misterpatches and remember to follow @Hollywood_com!
More:
Hunger Games Tops Easter Box Office!
Fourth Pie Aims for a Box Office Reunion Against Hunger Games