Can 'Wrath' or 'Mirror Mirror' Take Down 'Hunger Games'?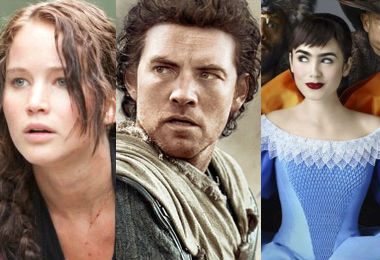 Last week, there was no question whether The Hunger Games had the momentum to take the top spot at the box office. Instead, it was a guessing game: how much could the young adult fiction adaptation reap in one weekend? Could it break records held by spiritually connected franchises like Twilight and Harry Potter?
Well, executives at Lionsgate, the studio behind Hunger Games, certainly won't be starving this year. Hollywood.com's Box Office Analyst Paul Dergarabedian reported last week that the movie took home an enormous $152.5 million, taking a spot in the top five opening weekends, and making it the third biggest opening weekend of all time. Now, the movie is aiming to best the fresh competition, Wrath of the Titans and Mirror Mirror, with another $60 million draw. By Sunday night, Hunger Games will already be approaching the $250 million mark.
Trailing behind the behemoth with reasonable totals, Dergarabedian reports that Wrath of the Titans, the sequel to the successful 2010 action flick Clash of the Titans should manage a $40 million gross, landing it a #2 spot. The film has an advantage: it's premiering in both IMAX and 3D theaters, giving it an extra bump at the box office.
But don't count the coveted PG rating out of the mix. The kid-friendly Mirror Mirror starring Julia Roberts, Lily Collins, Armie Hammer and directed with a hyperstylized eye by Tarsem Singh, should open with a solid $25 – $30 million. Without much else for the young ones (unless you're one of the eight people who hasn't forked over for The Lorax, which should hit $190 million over the weekend), Mirror Mirror should have no problem slipping through and capitalizing on the family crowd while Katniss is off dominating her competitors.
Dergarabedian predicts 21 Jump Street will round out the top five, adding another $12 million, nearing a respectable $90 million total by weekend's end. For an R-rated comedy in the Spring it's an exceptional total — solidifying Jonah Hill and Channing Tatum as box office draws.
May the odds for these predictions be forever in our favor.
Find Matt Patches directly on Twitter @misterpatches and remember to follow @Hollywood_com!