Cannes Chatter: The Fight Over Sexism Rages On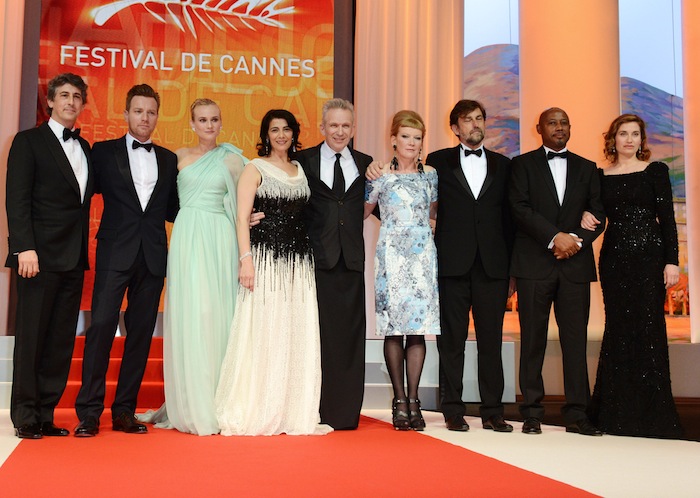 The 65th Annual Cannes Film Festival is officially in full swing, with nearly everyone in Hollywood transported to the prestigious French fest for a week and a half of wheeling and dealing. Catch up on all the goings-on with Cannes Chatter.
When the Cannes Film festival debuted its final list of In Competition films, there was a notable absence: women, as a whole. Out of twenty-two movies, zero were helmed by female directors — and the claims of sexism are still boiling in France. Responding to an open letter by a number of female filmmakers (which wryly commented that, "Last year, no doubt it was an accident, four women managed to slip in among the 20 in official competition"), director Andrea Arnold, one of this year's jury members, echoed the sentiment. The lack of women was, "a great pity and a great disappointment," suggested Arnold. "Women are half the population and they have things to say about life and the world." But Arnold also suggested she herself would not want one of her films selected simply because she's a woman. "I would only want my film to be selected for the right reasons." [Independent, ZeeNews]
Rumors that Philip Seymour Hoffman would join The American director Anton Corbijn's follow-up, an adaptation of John Le Carre's (Tinker Tailor Solider Spy) espionage novel A Most Wanted Man have finally been solidified. The deal was made at Cannes, as well-known for its buyers circus as it is its competitive film competition. The film is now set for a release in Germany in 2013 (which translates to a similar release stateside). [Deadline]
Michel Gondry (Eternal Sunshine of the Spotless Mind, The Green Hornet) always has a new trick up his sleeve, and his Cannes debut, The We & the I, looks as unexpected as one could hope for. The trailer for the French filmmaker's new movie, which takes entirely on a bus ride through the Bronx, has hit the web and is a tough one to make sense of. The movie premiered last night at Cannes as part of the Director's Fortnight series and garnered mixed reviews. The Playlist describes the movie as such: "With its overlapping dialogue and incredibly muddled sound mix, The We & the I soon turns into a claustrophobic endurance test." Technical problem with the theater or larger issue? We'll fine out when the film eventually drops in the U.S..
Follow Matt Patches on Twitter @misterpatches
More:
Cannes Chatter: Sacha Baron Cohen Arrives on Camelback as The Dictator
Cannes 2012 in the Can: How to See the Fest's Biggest Movies
'Once', Philip Seymour Hoffman, Andrew Garfield Earn 2012 Tony Nods