'Captain America 2' Casting Rumors: 5 Ladies Up For Role, Plus a Black Widow Cameo?

If Chris Evans is going to get a new love interest for the planned Captain America sequel, he's got a hell of a roster to choose from. According to Deadline, five ladies are up for the role of leading lady, and they include Game of Thrones' Head Khaleesi Emilia Clarke, Downton Abbey's runaway heiress Jessica Brown Findlay, Teresa Palmer, Imogen Poots and Community's Alison Brie. Word on the proverbial street is that all of these ladies are testing for the second billing.
There's also rumblings of a possible inclusion of Scarlett Johansson's Black Widow character to get in on the action. And we all know comic books just love a good cross-over story (hello, Avengers)!
For those not in the know, the sequel to Captain America will take place in present day after the events of The Avengers' film and beyond. It will focus on Steve Rogers' (Evans) struggle to integrate into modern society. The first movie was set in the 1940s.
While all the ladies are fantastic, we're personally rooting for Clarke or Findlay based purely on the fact that their current characters rank high on the "awesome ladies being awesome" scale. Imagine the horror-filled expressions of someone like, say, Ser Jorah or the Dowager Countess at even the thought of their ladies of such high-esteem mucking it up as a (hopefully) a**-kicking superhero love interest: worth it!
What do you think of these potential leading ladies? Do you think someone else should be in the mix? Sound off in the comments!
[Photo Credit: Marvel]
Follow Alicia on Twitter @alicialutes
More:
'Thor 2,' 'Captain America 2' Get New, Revealing Titles
'Captain America 2' Official, Arriving in 2014
Anthony Mackie as 'Captain America 2': First Falcon, Then the (Marvel) World!
From Our Partners:

(Moviefone)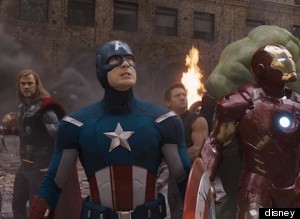 Marvel's Risky Future
(Moviefone)