'Captain America: The Winter Soldier' First Look Is Overflowing with Patriotism — PIC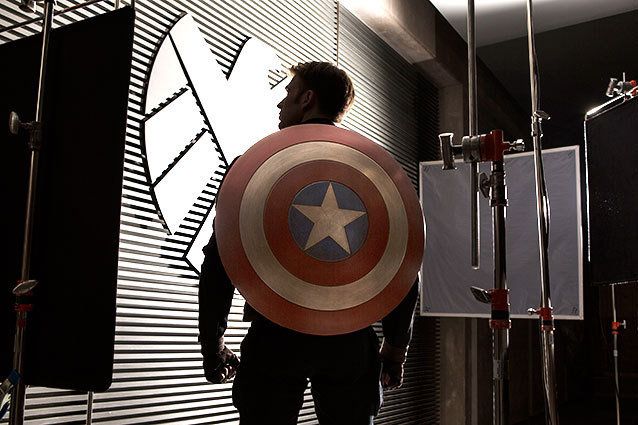 With Iron Man 3 hitting theaters in less than a month, Thor: The Dark World arriving at the end of the year, Guardians of the Galaxy casting stars left and right, and new Hulk-centric rumors smashing their way into the pop culture lexicon every week, we've just about… nope, still not even coming close to having our fill of Marvel news. Luckily, Marvel is just as zealous to give us new content as we are to receive it: the studio has announced that the previously announced Captain America 2, a sequel to the thrilling 2011 venture and its expansive follow-up The Avengers, has officially begun production.
Officially titled Captain America: The Winter Soldier, the film shares the above shot of a dutiful Cap (Chris Evans) perusing a dimly lit S.H.I.E.L.D. headquarters in the aftermath of the Avengers Initiative face-off with the Chitauri. Like Iron Man 3, the new Cap feature will follow the superhuman hero in the wake of the near-apocalyptic New York venture that took quite a toll on the team.
RELATED: Robert Redford Joins 'Captain America 2'
Alongside Evans in the Captain America sequel, we'll see Avengers stars Scarlett Johansson (as the Black Widow) and Samuel L. Jackson (as Nick Fury), as well as Hollywood veteran Robert Redford, as S.H.I.E.L.D. top banana Agent Alexander Pierce. The most intriuging bit of casting is the return of Haley Atwell and Toby Jones, returning as Peggy Carter and the diabolical Arnim Zola, respectively. Any question of whether we'll jump backwards in time in some fashion — as both characters are from the original, 1930s-set film —  is put to rest. We'll also see plenty of modern footage, with Revenge's Emily VanCamp playing the new female lead.
The Winter Soldier is directed by Joe and Anthony Russo, of Arrested Development and Community fame.
Follow Michael Arbeiter on Twitter @MichaelArbeiter
[Photo Credit: Marvel]
---
From Our Partners:


40 Most Revealing See-Through Red Carpet Looks (Vh1)


33 Child Stars: Where Are They Now? (Celebuzz)