Tom Hanks Does Not Make Us Feel Great About Somali Pirates in 'Captain Phillips' Trailer
There's something uniquely comforting about Tom Hanks. There's something in those eyes of his, or in his demeanor that just oozes control and steely resolve. He's like the perfect dad softly patting you on the back, and telling you everything will be okay. There are a ton of things Tom Hanks can make you feel better about, but everything has its limit, and I don't think even Mr. Hanks could comfort you when a couple of gun-toting pirates raid your boat, and take everyone hostage. That's just asking too much of the man. Tom Hanks struggles to hold everything together in the pulse quickening new trailer for Captain Phillips.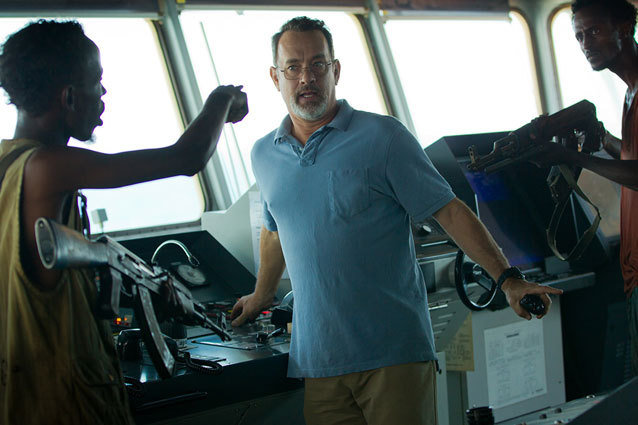 Columbia Pictures
In the film, Hanks plays Richard Phillips, a captain of a U.S. cargo ship who must defend his boat against a band of Somali pirates who take him and his crew hostage, hoping to secure a hefty ransom for their efforts. He struggles to keep all sides of the conflict under control, but things get unweildy when the military starts to send in soldiers to deal with the pirates. Paul Greengrass dives deep into his sea of tricks, and delivers his brand of documentary-style filmmaking that will transport you right on the freighter. The scenes in the trailer do away with any Hollywood sheen and slickness, and deliver a raw, white knuckle thrill ride that will have you stuck on the edge of your seat, instinctively yelling, "Run, Forest, run!" But when you're stuck on a hijacked boat, there are few places to run, and even fewer places to hide.
More:
Tom Hanks in 'Saving Mr. Banks' Poster
Tom Hanks is an Unlikely Hero in 'Captain Philip' Trailer
'Foxcatcher' Trailer
---
From Our Partners:


A Complete History Of Twerking (1993-2013) (Vh1)


15 Stars Share Secrets of their Sex Lives (Celebuzz)