Carl Rinsch To Go On 'Logan's Run'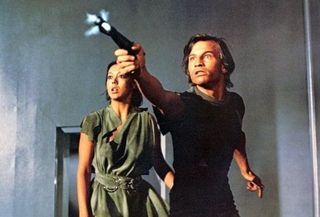 It's truly unbelievable that I even know WHO Carl Erik Rinsch is. The respected commercial director has built a name for himself this year with the remarkable short The Gift and by attaching himself to any sci-fi action tentpole he can get his untried fingers on, from the Keanu Reeves starrer 47 Ronin to Universal's anticipated remake of The Creature From The Black Lagoon.
There is no word on which of those will come first, but Rinsch isn't wasting time lining up his future schedule. Aside from the Lagoon remake, The Hollywood Reporter scoops that he's now in talks to take on the long-in-development Logan's Run redo at Warner Bros. Joel Silver is producing the update of the classic 1976 sci-fi thriller about a future society that demands the death of everyone upon reaching a certain age. Anyone who veers from that destiny is dubbed a "runner" and is hunted by operatives known as Sandmen. Protagonist Logan is a Sandman who is forced to go on the run.
The project has been set up at WB since the 1990's and saw renewed interest in 2004 when Bryan Singer signed on to develop and direct, but when the filmmaker jumped ship to helm Superman Returns, movement stalled. Since then, Robert Schwenke, Joseph Kosinski and James McTeigue had been courted for gig but ultimately opted out.
Don't get too excited, fanboys. We've got a ways to go before Logan's Run will hit the big screen again as the studio will likely hire a new writer to polish the script before production begins and that leads to yet another problem. Had the film been produced and released when originally intended, it could've been a big hit. Unfortunately, recent films have borrowed generously from Logan's plot, from Michael Bay's The Island to this April's flop Repo Men. It could turn out to be a case of too little, too late. Regardless, if you're not excited about the prospect of Rinsch as a blockbuster filmmaker, check out The Gift below: