'Cars 2' Revs Up Another Win for Disney/Pixar!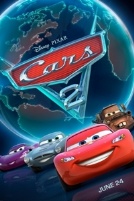 If 11 number 1 debuts were not enough, Disney's Cars 2 gives Pixar animation their 12th consecutive pole position at the box office with a $68 million opening weekend.  Every Pixar film including 1995's original Toy Story has opened at the top of the chart and the franchise has generated an astounding $6.6 billion in worldwide revenue to date.  Cars opened in June of 2006 with $60.1 million and this latest installment benefited from IMAX and 3-D that added a bit of Detroit muscle and helped to push the revenue higher than its worthy predecessor.  IMAX on 150 global screens added and impressive $3.25 million.  An incredible global marketing campaign that includes the largest licensee program in history will powered these cars to a strong finish this weekend.
At the other end of the genre spectrum is the very R-rated comedy Bad Teacher from Sony.  Starring Cameron Diaz as a foul-mouthed and decidedly uncouth junior high teacher, the marketing campaign has been very effective at conveying the appealing concept of the film.  Following in the successful footsteps of its R-rated summer alumnus Bridesmaids and The Hangover Part II, a much better-than-expected of $31 million gave this teacher an A on the report card. 
Last weekend's number 1 film Warner Bros.' Green Lantern has performed well mid-week in the high $4 million range and with a 65% drop had a second weekend of around $18.35 million.  The latest entry in the superhero wars this summer, the Ryan Reynolds superhero movie has earned $89.3 million in total green in N. America thus far.
Paramount's Super 8 enters its 3rd weekend with over $80 million in N. American revenue and about $100 million internationally.  A 4th place finish of $12.4 million for the Steven Spielberg/J.J. Abrams collaboration reflects the terrific word-of-mouth it has received since its crowd-pleasing debut. IMAX continues to add to the domestic revenues for the film with over $1 million this weekend in domestic revenue. 
Note: IMAX pre-sales for both Transformers: Dark of the Moon and Harry Potter 7, Part 2 have been off the charts.
Last weekend Fox's PG-rated Mr. Popper's Penguins enjoyed a better than expected 3rd place debut of $18.5 million and has been alternating between 2nd and 3rd place in the mid-week derby.  A 5th place weekend finish of $10.3 million has these penguins landing around $40 million in total domestic revenue by Sunday night.
An up weekend at the box office vs. last year as the summer movie season maintains its 5% revenue and 12% attendance lead over last year.
Weekend Box-Office Estimates
Top Movies – For Weekend of June 24, 2011
    Movie     Weekend Gross     Total to Date
1     Cars 2 (G)     $68.0M     $68.0M
2     Bad Teacher (R)     $31.0M     $31.0M
3     Green Lantern (PG13)     $18.35M     $89.3M
4     Super 8 (PG13)     $12.1M     $95.2M
5     Mr. Popper's Penguins (PG)     $10.3M     $39.5M