'Casino Royale' Is My Favorite James Bond Movie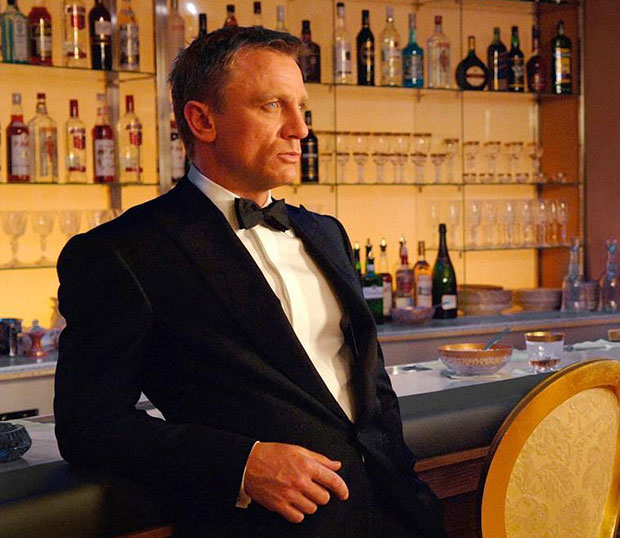 Before 2006, my answer to the question "What's your favorite James Bond movie?" would have been simple: Goldfinger. It's a typical answer. It's got the iconic Shirley Bassey theme song. It's got the golden lady, elegantly sleeping for eternity on Bond's impeccable hotel bed. It's got the ridiculous, unforgettable villains like Odd Job, Pussy Galore, and of course, Goldfinger himself. Plus, it's got the canonical Bond: Sean Connery. Everything that came after Diamonds Are Forever (we will not be counting 1983's Never Say Never Again as a legitimate Bond flick) was fun and Bond-esque, but those films were all striving to mimic Connery's gold standard. And while Roger Moore won us over a bit in Live and Let Die and Pierce Brosnan did alright as the '90s Bond, it's always been Connery.
That is, until Casino Royale hit theaters in November six years ago.
It had been four years since James' last appearance on the big screen, and Bond fans were anxious for another dose. Rather than another action flick with Bond dressing, we found something wonderful: a film that is wholeheartedly dedicated to Connery's bond while doing everything it can to adapt that essence for a modern audience.
It was a refreshing change after Brosnan's films started to feel less and less like Bond material and more like a series of films with a knack for stealing lines from Bond flicks. Daniel Craig's 007 has great respect for Connery's iteration. It's clear in his demeanor and his stature. It's clear from the fact that the character doesn't utter a single classic Bond line until he's earned it.
The film takes us back to the beginning, so to speak. We're introduced to a baby 007, a James who's just earned his license to kill. He's still what Judi Dench's M calls "a blunt instrument" and he's not yet attained his cold, calculating suaveness that is so integral to the character. We watch this new Bond, who's got the essence of Connery running through his veins, as he earns our unyielding regard. And I mean earns it. Paul Haggis' incredible script throws the new James through the ringer. 
Craig's Bond accomplishes his first kills, he survives being poisoned, he endures excruciating pain that would rock any man to his core, and he defeats the bad guy. Add to that the strain on his heart after falling in love with Vesper, witnessing her betrayal, forgiving her, and then losing her forever, and you've got a Bond whose manner and style is not only everything we've been dying to see since Connery spoke his last line as the famous super spy, but it's truly earned. Craig's Bond has done what no post Connery "Bond" has ever managed: he's taken up the mantle after traveling a road that establishes him as the only conceivable replacement for Connery. 
Instead of seeing Bond elements in Craig, the film makes us beg for the final moments in which Craig, clad in an impeccable suit and packing a gun with a silencer, steps on the villainous Mr. White, who's crawling in the dust in front of his mansion. The music is almost so imminent we can practically feel it coming as Craig finally utters the lines he's worked for two hours of screen time to earn the right to say: "Bond. James Bond." And with that, the iconic Bond theme pounces into action, solidifying the fact that while the canonical Connery Bond isn't available to us anymore, our generation's got our own classic 007.
In Dr. No, '60s movie-goers found their Bond. In Casino Royale Craig isn't assuming that Bond role. He is Bond. Our Bond. That's a feat worth praising.
Follow Kelsea on Twitter @KelseaStahler
[Photo Credit: Columbia Pictures]
More:
James Bond Turns 50: Why the Franchise Should Never End
'Skyfall' Writer John Logan to Return Next Bond 24 — REPORT
Adele's 'Skyfall' Released in Full: That's Not a Bond Theme, THIS is a Bond Theme
From Our Partners: