Catch Up With 'The Hunger Games' Stars on Redbox Instant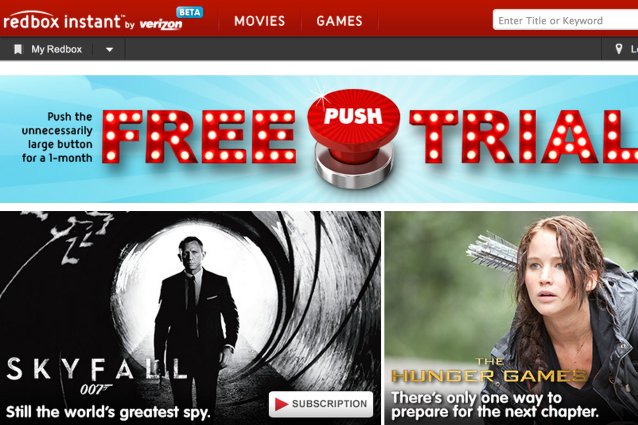 redboxinstant.com
With The Hunger Games: Catching Fire being released today, there is no better time to check out all the amazing films this talented cast has previous appeared in, including the first Hunger Games . Luckily, it's now easier than ever to watch these movies instantly! With Redbox Instant by Verizon, members can enjoy all the instant streaming they can handle as well as four DVD Redbox kiosk rentals per month, and the best part? The first month is free. So, in honor of Catching Fire and Redbox, we've compiled a list of films available that all you Hunger Games fans must see.
Jennifer Lawrence (Katniss Everdeen)
Silver Linings Playbook (kiosk)– Check out the role that won Lawrence her first Oscar! In Silver Linings Playbook, Lawrence brings out her funny, kooky, and super talented side when she takes on the role of Tiffany, a young woman grieving the recent death of her husband. When Tiffany meets Pat (Bradley Cooper) they duo find ways to help each other overcome their mental, physical, and emotional ailments, typically to the delight of audiences as Cooper and Lawrence are hilariously sweet in this must see film. 
Like Crazy (streaming)– Before Lawrence moved into the blockbuster arena, she started out with roles in indie films such as this critically acclaimed gem. In Like Crazy, Lawrence plays Sam, the breezy on and off girlfriend of Jacob (Anton Yelchin), an introspective man who is struggling to decided if he should stay in his long-distance relationship.
Liam Hemsworth (Gale Hawthorne)
Empire State (kiosk)– Between filming The Hunger Games and Catching Fire, Hemsworth took on the role of Chris in Empire State. Based on a true story, the film follows Chris and his best friend Eddie (Michael Angarano) as they rob an armored truck, and the trouble they get in when a veteran NYPD detective (Dwayne Johnson) becomes suspicious of them. 
The Expendables 2 (streaming)– In this big-budget Hollywood blockbuster, Hemsworth takes on the role of Billy the Kid, an ex-military sniper who joins Sylvester Stallone, Bruce Willis and Jason Statham's characters on their quest for revenge.
Josh Hutcherson (Peeta Mellark)
Epic (kiosk)– In this delightful animated film, Hutcherson voices Nod, a rookie warrior who falls in love with the main character, M.K. (Amanda Seyfried) on her journey through the Bomba forest. 
Fragments (streaming)– A unique ensamble drama, the film centers on a group of strangers who form a bond after they all survive a random diner shooting. A young Hutcherson takes on the role of Jimmy Jaspersen, a boy who is present during the shooting and becomes reclusive after seeing a man die.
Elizabeth Banks (Effie Trinket)
The 40 Year Old Virgin (kiosk)– In this hit comedy, Steve Carell stars as Andy, a 40 year old man who has never had sex. When he meets Banks' character Beth, Andy tries to seduce her with hilarious and awkward outcomes. 
What to Expect When You're Expecting (streaming)– This comedic film adaption of the best-selling pregnancy guide follows many different women who face the typical pitfalls the come with having babies. Banks plays Wendy, a woman who has tried to get pregnant for years, and when she finally does, absolutely hates all the painful, gross, and unexpected things that happen when you're nurturing a baby.
Woody Harrelson (Haymitch Abernathy)
Seven Psychopaths (at kiosk)– In this British comedy, Harrelson plays Charlie Costello a.k.a. Psychopath No. 3, who is basically the bad guy in a film about bad guys. However, this film is exceptional due to the wonderful cast and Harrelson's typical sarcastic wit.
Rampart (at kiosk)– In this drama, Harrelson takes on the role of David Brown, a dirty LAPD veteran who must face the consequences of his professionally inappropriate actions that have caused trouble for his department and his family.
Donald Sutherland (President Snow)
Panic (streaming)– This eerie film focuses on Alex (William H. Macy), a hit-man who is slowly becoming uncomfortable with his line of work. As a result, he begins attending therapy where Alex discovers the his traumatic childhood relationship wit his father (Sutherland), a dominating and threatening man who steered Alex into the "family business." 
Fierce People (streaming)– In this quirky drama, Sutherland plays an aging billionaire who introduces a young man into the life of the ultra-rich, and shows him just how steep a price it costs to live in the upper-crust world.
Stanley Tucci (Caesar Flickerman)
Jack the Giant Slayer (kiosk)– Based on the English fairytales "Jack the Giant Killer" and "Jack and the Beanstalk," the film follows Jack, a young farmhand that must save the kingdom's Princess after he accidentally opens a portal to a world of giants. Tucci plays Lord Roderick, the King's advisor who has evil plans of taking over the kingdom. 
Big Night (streaming)- This critically acclaimed film, which Tucci directed and starred in, follows the tale of two immigrant brothers' struggles on the New Jersey shore in the 1950s.
And, of course, you can see all these actors in The Hunger Games, which is available via instant streaming (oh, go ahead, watch it over and over, we won't judge). Plus, make sure you check out the thousands of other instant movies available with your free Redbox trial.