Celebrate James Bond History 'Bond50' Blu-ray/DVD Collection of Every Bond Fim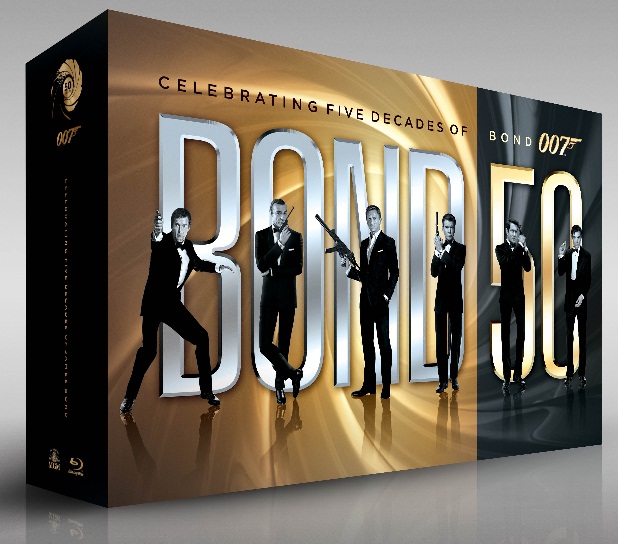 Fifty years ago, the world paid witness to the first in a long line of glorious cinematic adventures of one James Bond with Dr. No. In celebration of the 22 to-date Bond films spread over the last half of a century, Metro-Goldwyn-Mayer Studios and Twentieth Century Fox are releasing BOND 50—a Blu-ray/DVD box set collection of all twenty-two James Bond movies. The collection is now available for pre-order.
The collection includes all of the Bond films listed below, featuring each of the historic portrayers of James Bond (Sean Connery, George Lazenby, Roger Moore, Timothy Dalton, Pierce Brosnan and Daniel Craig), as well as over 130 hours of bonus features including some new and exclusive content.
James Bond Films
Dr. No – '62 (Connery)
From Russia with Love – '63 (Connery)
Goldfinger – '64 (Connery)
Thunderball – '65 (Connery)
You Only Live Twice – '67 (Connery)
On Her Majesty's Secret Service – '69 (Lazenby)
Diamonds Are Forever – '71 (Connery)
Live and Let Die – '73 (Moore)
The Man with the Golden Gun – '74 (Moore)
The Spy Who Loved Me – '77 (Moore)
Moonraker – '79 (Moore)
For Your Eyes Only – '81 (Moore)
Octopussy – '83 (Moore)
A View to a Kill – '85 (Moore)
The Living Daylights – '87 (Dalton)
Licence to Kill – '89 (Dalton)
GoldenEye – '95 (Brosnan)
Tomorrow Never Dies – '97 (Brosnan)
The World Is Not Enough – '99 (Brosnan)
Die Another Day – '02 (Brosnan)
Casino Royale – '06 (Craig)
Quantum of Solace – '08 (Craig)
A View to a Kill
The Living Daylights
Licence to Kill
GoldenEye
Tomorrow Never Dies
The World Is Not Enough
Die Another Day
Casino Royale
Quantum of Solace