Channing Tatum and Alex Pettyfer Do Not Have Shirts On in New 'Magic Mike' Pics
If you have come this far, I can assume you are not deterred by shirtlessness. This expositional partiality you so actively embrace will serve you well in your pursuit of Magic Mike enjoyment. Steven Soderbergh's developing film about the life and work of a young stripper entering the business has a lot more going for it than just the Davidian skeletomuscular structures of stars Channing Tatum and Alex Pettyfer. The story is based on Tatum's real-life experiences of stripping down in his days prior to stepping up. The mighty ensemble cast includes Wendi McLendon-Covey, Matt Bomer, Joe Manganiello, Olivia Munn and Matthew McConaughey (I don't usually get excited over the Con, but this seems like the sort of movie for which he was suited*). And with Soderbergh at the wheel, there is little reason to doubt this project.
Below, we see the starring duo of experienced stripper Mike "Magic Mike" Martingano (Tatum) and a greenhorn only known as The Kid (Pettyfer) doing the whole "we're not going to wear shirts for this picture" thing that appeals to anyone with an appreciation for the human form. Beneath that, there's some dancing. Some tie-clad, dimly-lit, presumably techno-backed dancing.
If you were already on board, I imagine your mind is not changing now. If you're a little uneasy with the idea of a film about male strippers, then I suggest you consider what seems to be a particularly dense and fun story at hand here.
Magic Mike comes out June 29.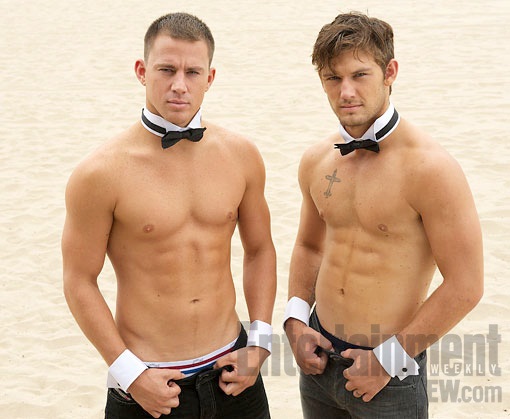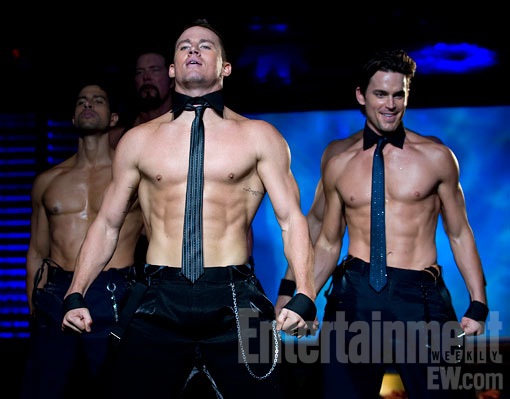 *No pun intended… Get it?… Suited. Suit. Clothing. And they're strippers.