Channing Tatum Needs a Director Who Knows 'How to Dress and Decorate Their House'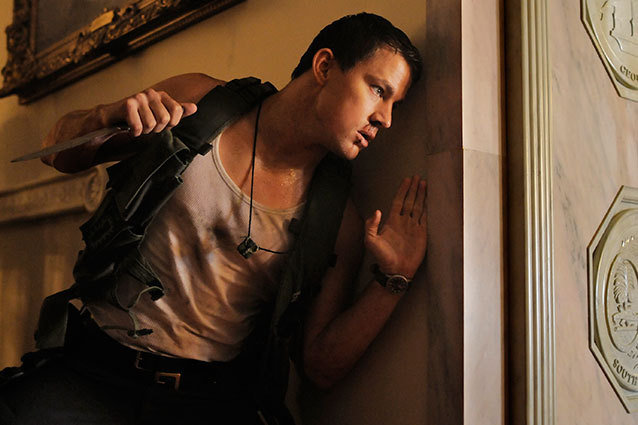 Channing Tatum is a busy man.
We caught the actor on the set of White House Down in August of 2012, a down moment from his year in the spotlight. The actor was riding high from The Vow, 21 Jump Street, and Magic Mike, and only more in demand: he only had an eight week window to shoot director Roland Emmerich's Presidential home invasion action picture because he had two other movies gearing up to shoot and the stars aligned. Tatum's White House Down schedule demanded six-day weeks, 13 to 14 hour days, and an obstacle course of stuntwork. He couldn't be happier. To have figured out a way to do it.
"[White House Down] is exactly what I feel like movies should be," the actor says. "We're not curing brain cancer. We're having fun. We're blowing up the White House and doing a bunch of crazy stunts." Tatum cracks a grin recognizable from his performances, but it's 100% genuine. When he talks the madcap race to get White House Down in the can, he's giddy like a kid in the candy store.
"This movie's got a bunch of obvious bells and whistles," Tatum says. "I get to set the White House on fire. I think every American has thought about it once or twice. In the fun way, not the demented weird way." He describes White House Down like that the kind of movie where, despite having eight guys firing submachine guns at the hero, he'll survive. He'll get roughed up, sure, but he'll come back swinging. "It's supposed to be fun. You're supposed to feel like you're on a roller coaster."
The real draw for Tatum was working with Emmerich, who he praises as one of the most stylish directors he's ever met. That's important for Tatum: a good director needs to be aware of his presence, his look, his swagger, his attitude. "I believe movies are complete mirrors of the director," he says. "If someone doesn't know how to dress and decorate their house, some aspect of that will be missing. It doesn't matter if you have the best costume of set designer." Every emotion bleeds on to screen, and Tatum is keenly aware of this fact. Fashion matters. "It's the viewfinder of the director."
Tatum knows that staging a popcorn movie inside the White House could have implications into real world conversations. It's not Emmerich's goal to make a statement with the movie, but the actor says its something he and his director acknowledge. "It's not Hollywood's soapbox to say stuff that someone thinks we want to say," he says. "We're keeping things non-offensive. It falls way liberal or way conservative, it alienates people and their views. I think being aware of that is a responsibility."
The duo's real focus is delivering a kick-ass time at the movies. To do this, Tatum has thrown himself into the movie. In one scene, he and Jamie Foxx (who plays the President in the film) are hanging from an elevator shaft, that was built to allow the actors to physically dangle inside it. In another fight scene, Tatum picks up a toaster to wield as a makeshift flail. Fitting for an Emmerich — if the Independence Day director can't blow up the White House, he's going to rip it apart from the inside.
"I'm a sucker for this stuff," Tatum says. "I love it. The more they let me do, all do it all. I don't want to fly a helicopter because I don't know how to do that and I don't want to pop a wheelie on a motorcycle because I don't know how to do that, but all the rest of the stuff, I know how to do. And I can do it pretty aptly."
Tatum was drawn to White House Down because it injects action with a story he believes audiences will connect to. He thinks the state of genre movies is 'stark' and he's happy to mix it up. As he puts it, "Horror movies just have horror in them. Action movies just have action in them. If we could level it out, movies would get better." He hopes to use his newfound success to leverage these blended concepts. It won't be long before we see Tatum behind the camera. "[My business partner and I] want to direct and produce and more and more get our hands into it," he says. "I'll always be an actor-for-hire, but I want to move into the filmmaking side. Not just directing, but creating in general."
Follow Matt Patches on Twitter @misterpatches
MORE:
Roland Emmerich Takes Us on the Ultimate White House Field Trip
See the First Footage from 'White House Down'
Jimmy Kimmel Casts Channing Tatum in 'Movie: The Movie 2V'
---
From Our Partners:


Eva Longoria Bikinis on Spring Break (Celebuzz)


33 Child Stars: Where Are They Now? (Celebuzz)