Channing Tatum to Play Superman… in the LEGO Movie?!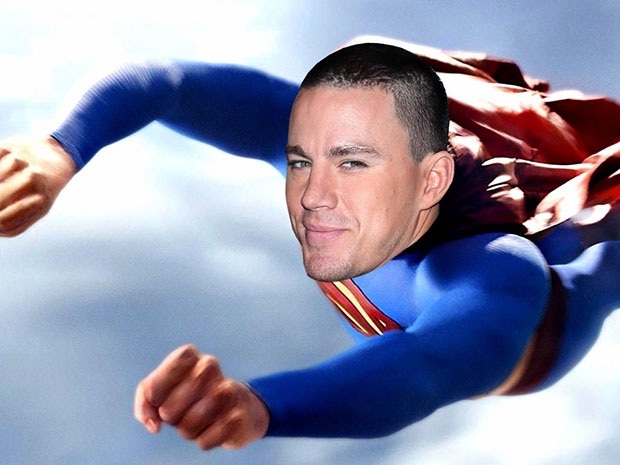 For quite some time now, Warner Bros. has been toying with the idea of a LEGO movie, building up the public's hopes of channeling the one aspect of peoples' childhoods that they didn't block out. Now, Variety reports that the studio has pegged a few actors to join the cast, and the choices will make you yell Oh! … Because that's what people yell when they are happy with casting choices.
Channing Tatum as LEGO Superman
But enough with the LEGO puns. Here's the first bit of the movie's casting news that'll hit you like a ton of bricks: Channing Tatum has been cast as Superman. LEGO Superman. After this week's demonstration of his powers on the strip club stage, Tatum will voice a character accustomed to outfits just as tight-fitting as his Magic Mike hero. The LEGO brand is known for its adoption of iconic pop culture figures — comic book characters, science-fiction legends, Western deities — so, Superman won't be the only recognizable superhero to earn a role in the movie…
Will Arnett as LEGO Batman
Christopher Nolan's Batman series gave Batman a new voice. A darker, raspier, more painstaking voice. One that might have been a hell of a throat-ache for Christian Bale, but will come oh so naturally to Will Arnett, the Arrested Development and Up All Night star with the rusty larynx. Of course, the man behind GOB has a more sinister, underhanded nature intrinsic in his tongue, meaning we might not see as noble a Dark Knight as the films have given us.
Chris Pratt as… Just a LEGO
If an entire movie were placed in the hands of Andy Dwyer, Parks and Recreation's breakout star, it would most naturally center around a children's toy. The deft comic performer Chris Pratt is starring in the LEGO movie as Emmet, an everyday citizen of the focal Legopolis, who gets wrapped up in an unforeseen adventure. Hopefully, Aubrey Plaza will jump on board as his LEGO girlfriend. We already know she can handle the range of facial emotions exhibited by a LEGO character.
More:
Warner Bros. Stacks A 'LEGO' Movie
Channing Tatum Heats Up the 'Today' Show with a 'Magic Mike' Flashmob — VIDEO
Channing Tatum on 'Magic Mike': A Movie for the '50 Shades of Grey' Era