Charlie Sheen is Going to be President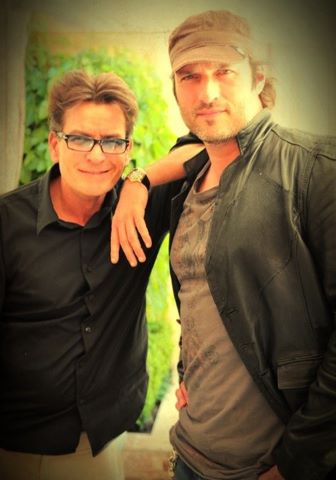 My fellow Americans, the POTUS has landed, and it's definitely not Obama. I am here today to inform you of the grave and serious news that a one mister Charlie Sheen has been cast to lead this fair country as the President of the United States. But wait! Don't freak out…it's only for a movie. Alright, are you done laughing yet? It actually has the potential for greatness–hear me out!–as this is the President in the world of Robert Rodriguez's Machete Kills, the sequel to his grindhouse film Machete. The two announced the casting (as you do when it's something as presidential) via Twitter, natch.
"I just cast Charlie Sheen in #machetekills as the President of the United States! Who better? More soon…" tweeted Rodriguez this evening. Sheen, in his retweet, added a simple "My Fellow Americans!" to share his excitement. In the movie, Machete (Danny Trejo is reprising his role), is drafted by the government to track an arms dealer through Mexico before he launches a big scary weapon. Does that mean that Sheen is hoping that he'll be (Warning! Terrible Charlie Sheen jokes ahead!) #winning the race with Machete under his control? I wonder if there's tiger blood involved (I'm so sorry, you guys.)
Our boy Charlie here isn't the only controversial fellow to be cast in Machete Kills; he is joined by Mel Gibson who will play a character named Luther Voz (not to be confused by Luther Vandross, though…I think).
Sheen joins a long line of characters of a varying sort who've played presidents in the past. And while Sheen is certainly no William Hurt, or Morgan Freeman (or my personal favorite faux-president, Bill Pullman in Independence Day), it is a fairly solid choice for the exploitation-style in which this film will be shot. Because let's face it: when it comes time for the President to smoke a cigarette and aggressively swear with a fist-beat to the table, you know Charlie's going to nail it in the most absurd way possible–which is the point! Besides, Charlie already acts like he runs the free world; might as well give him faux-reign, for a few minutes there, right?
What do you think about the casting of the world's favorite warlock in the role of el presidente? Who's your favorite fake President? Let us know in the comments!
[Deadline]
[Image Credit: Robert Rodriguez's Twitter]
Follow Alicia on Twitter @alicialutes
More:
Mel Gibson Joins 'Machete Kills': Can Robert Rodriguez Redeem Him?
Charlie Sheen: 'Dave Chappelle cost me my Two and Half Men job'
Sofia Vergara in 'Machete Kills': Prepare for New Levels of Accentry