Chaske Spencer Recalls the Last Day of Shooting 'Breaking Dawn'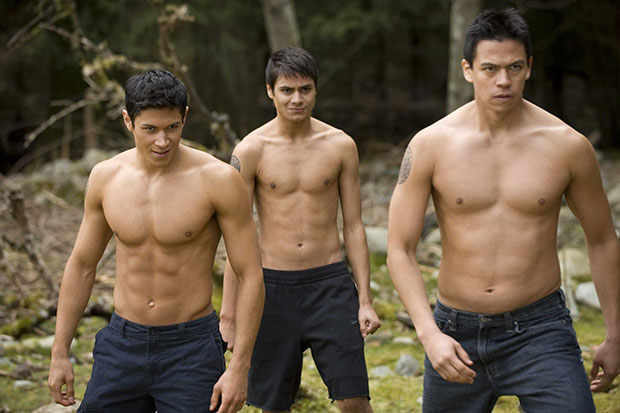 It's time to call it a wrap. The final Twilight movie, The Twilight Saga — Breaking Dawn – Part 2 drops in theaters Nov. 16, and that's it. After this, there will be no more Bella and Edward drama. No more werewolf-vampire battles. Not more bed-breaking vampire sex scenes. And for the actors, no more bonding on set. Hollywood.com catches up with Chaske Spencer, who plays werewolf Sam Uley, and he shares with us what it's like to see the franchise's days coming to a close.
Spencer is going to miss hanging out with his werewolf brothers on set. "It was always good to hang out with them," he says. "We've been together since New Moon, so it was a little sad that it's gone." But Spencer will stay friends with his cast mates. "I'll always keep in contact with them," he says.
And Spencer will always have memories from being on set to keep close to his heart, especially the last day of shooting. "We'd been up all night," Spencer recalls. "It was the wedding scene, [and] we shot all night." This was the first time Spencer ever attempted a night shoot. "At the end, I was really tired," he shares. "I remember they had us put off somewhere in the Cullens' house, and we were all trying to get some sleep between takes, but it's a long process."
While the last day of shooting was tough on Spencer, there were also easier times that he remembers. And there's one specific scene that Spencer feels will draw fans in one last time. "I really enjoy the scene [where] Jacob and Sam unite and want to do battle with the vampires," he teases.
It's these vampires, the Volturi, that pose the biggest threat to Spencer and his wolf pack. "I would say the element of their strength [is the Volturis' biggest threat]," he says. "I don't think Sam's every really encountered those type of vampires. That's something that the character is going to have to keep on his paws [for]."
But at least Spencer was in shape and physically prepared for battle. "I was in a hotel with a gym," he says. "There was also a gym in Squamish that we went to.  We were in the gym a lot. [And] I'd do heavy lifting for like an hour."
Check out the rest of Hollywood.com's interview with Spencer in the video below:
Follow Lindsey on Twitter @LDiMat.
[Photo Credit: Summit Entertainment]
More:
'Twilight' Retold Through Werewolf Chaske Spencer's Eyes
'Breaking Dawn – Part 2' Star Peter Facinelli Is Going to Miss Stunt Training with the Cullens
Kristen Stewart as a Mom? 12 Unrealistic Parent/Child Age Gaps in Movies — GALLERY
From Our Partners:

'Twilight' Cast Now and Then (PICS) (Moviefone)
How to Be a Bond Director
(Moviefone)