'Chicago' Director Rob Marshall Tackles Fairy Tales with 'Into the Woods'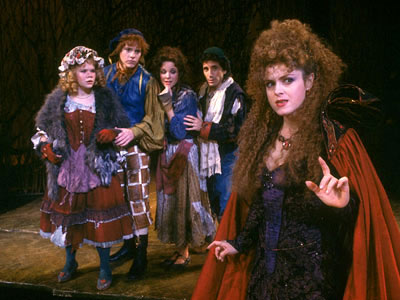 After taking over the Pirates of the Caribbean franchise and helping the fourth installment, On Stranger Tides, to become the third highest grossing movie of 2011 (taking in $1 billion worldwide), director Rob Marshall has decided to return to his cinematic mainstay: the big screen musical.
The man behind the Academy Award-winning Chicago and minor dud Nine has signed on to shepherd a feature version of Stephen Sondheim's classic Broadway show Into the Woods for his Pirates family, Disney. Marshall began cooking the idea up a year ago when he was working with mega-producer Jerry Bruckheimer on On Stranger Tides and the adaptation couldn't make more sense in the current landscape. After Tim Burton's blockbuster Alice in Wonderland, fairy tales are all the craze, with ABC's Once Upon a Time and NBC's Grimm bringing in solid ratings and Snow White and the Huntsman, OZ: The Great and Powerful and Maleficent all prepping for release in the next two years. Into the Woods, which melds a series of fairy tale characters and stories, including Little Red Riding Hood, Rapunzel and Cinederella, is a perfect fit.
It's unclear if Into the Woods will be Marshall's next project—he's currently working on a remake of The Thin Man with Johnny Depp, plus a possible fifth entry in the Pirates saga—but without he pressure of the current fad, we may see the musical sooner than later.
Get a taste for the show by watching the show's musical number "Agony" below:
="font-style:>
Source: THR