Chloe Moretz Offered Role In 'Carrie': Is She The Right Choice?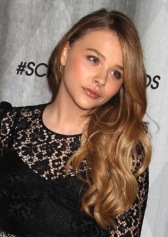 Against all odds, Carrie White has become the comeback kid. The tortured, titular character from Stephen King's terrifying best-seller Carrie, who was made iconic by Sissy Spacek in the 1976 horror classic, continues to get her moment in the spotlight.  In addition to once again hitting the Broadway stage, Carrie will be heading back to the big screen. (And no, we're not counting 1999's The Rage: Carrie 2. Because that never happened.)
According to Deadline, MGM, Screen Gems, and director Kim Peirce (Boys Don't Cry) have chosen Hugo star Chloe Moretz to fill Spacek's blood-soaked shoes for an upcoming remake of the chilling telepathy-gone-awry tale. Sure, the baby-faced 15-year-old actress isn't even of prom-attending age herself yet, but the increasingly busy star could be just the right girl to wreak total havoc on her on-screen classmates.
Case in point: Setting aside her memorable performances in lighter fare like Hugo, (500) Days of Summer, and Diary of a Wimpy Kid, Moretz has proved she, like Carrie, can hold her own in situations with horror (Let Me In), violence (Kick-Ass) and religious fanaticism (Bolt.) (Okay, maybe not that last one.)
Perhaps most impressively, though, is how Moretz is continues to prove herself a force to be reckoned within young Hollywood, in an era of tabloid fixture 'tweens. Moretz, unlike her fellow young cohorts such as Miley Cyrus and Selena Gomez, has managed to make headlines for landing plum roles like those in Tim Burton's update of Dark Shadows, the Beach Boys biopic The Drummer, and now, possibly, the remake of Carrie. Much like Dakota Fanning (another name Deadline.com reported that was in talks for the Carrie role) Moretz seems poised to make the transition from child star to full-fledged adult with an increasingly impressive resume to her name. (And Moretz doesn't even have those pesky rape scene or perfume ad controversies to shake off.)
Plus, she went toe-to-toe with Alec Baldwin's Jack Donaghy on 30 Rock and bested him. Those high schoolers don't have a prayer.
What do you think? Did the makers of the upcoming Carrie reboot let the right one in with Chloe Moretz? Or are you just disappointed that Hollywood is remaking yet another classic? Do you agree that Moretz is one of the most promising young talents out there? Will she be able to do Sissy Spacek justice?
More:
Almost A-List: Young Hollywood's Tipping Point
8 Child Actors And Their First Grown-Up Roles
Chloe Moretz And Rupert Grint Join Beach Boys Biopic
[Deadline]
(Photo by David Edwards- © 2011- DailyCeleb.com- All Rights Reserved)