Chloe Moretz Shouldn't Be in a YA Movie
If you manage to recover from The Fault in Our Stars by August, you can end the summer the same way you started it: crying in a movie theater. This time, the film is If I Stay, the big screen adaptation of Gayle Forman's popular YA novel, and the first trailer for the film promises all of the romance and tragedy that your poor heart can handle. Chloe Grace Moretz stars as Mia, a 17-year-old cello prodigy who winds up in a coma after a terrible car accident that kills her whole family. But while her body is comatose, she can still see and hear everything that's happening around her, and she must decide if the love of her friends is enough to make her stay in a world filled with grief. 
If I Stay is something of a deparure for Moretz, who is best known for playing tough, violent and foul-mouthed characters like her breakthrough role as Hit Girl in 2010's Kick Ass. Since then, she has primarily stuck with edgier films; the closest she has come to starring in a YA drama is starring in the recent remake of Carrie. Because the role of Mia is so different to the kind of projects we're used to seeing Moretz star in, it gives her a chance to explore a different kind of character, as well as showcasing the full range of her talents. And while it makes sense that such an opportunity would attract her to the role, it still seems odd that Moretz would star in a standard YA adaptation because she doesn't really need to. 
Major YA film adaptations tend to be the primary way that young actresses establish themselves and their careers, and if the film or franchise is successful, they can become a big star overnight. Despite the Oscar buzz they both earned with their breakthrough roles, it wasn't until Jennifer Lawrence and Shailene Woodley starred in The Hunger Games and Divergent, respectively, that they were considered movie stars. Kristen Stewart had plenty of acclaimed films on her resume before starring in the Twilight franchise, but it's the role of Bella Swan that has earned her the most attention. A YA adaptation is an easy way to establish yourself in Hollywood, because they come with their own, built-in fanbase and are guaranteed a great deal of press attention. Moretz, on the other hand, already has an established career, with high-profile projects like 30 Rock, Let Me In, and Hugo under her belt, and probably brings more attention to If I Stay than the film would be able to bring her. So, why go the YA route?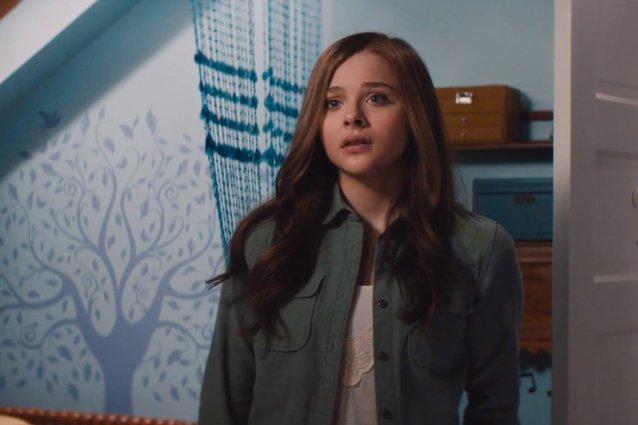 MTV/YouTube
In addition to giving her a chance to try new things and take on a different role, film adaptations of YA novels are more likely to feature an interesting, complex role for a young actress than many mainstream movies, which often tend to cast them in smaller, supporting roles, usually as the girlfriend or daughter of the main character. A majority of YA literature is written for and about teenage girls, and so it's natural that teenage actresses would also be drawn to the project. If the film is a success, which If I Stay is likely to be, considering both Moretz' high profile and the established audience for the book, it not only helps actresses earn more attention, but also proves that they are capable of handling complex, difficult roles. 
However, there is a flip side to the benefits of taking a starring role in a YA adaptation, primarily the fact that those actresses often find it difficult to shake off their characters. Stewart will likely always be Bella Swan to the general public, and despite taking roles in more adult projects, Emma Watson is still unable to differentiate herself from Hermione Granger. Moretz is in the unusual position of being a young actress who has seen success in a variety of roles and genres, which has thus far kept her from being typecast or stereotyped. If If I Stay is a major success, there's a chance that Moretz will get stuck playing Mia-like roles, making it hard for her to shake off the character and continue to have a diverse, interesting career. 
On the surface it appears as if Moretz has nothing to lose by starring in If I Stay. After all, it's an interesting, dramatic part in a big film with lots of press and fan attention surrounding it. But going into the film as an established, respected performer means that the film's success could be a double-edged sword for her. She does have a few projects lined up after If I Stay, all of which are distinct from one another, which could help protect her from the negative impact that the film might have on her career. Still, it's hard not to be apprehensive about the path that Moretz's career will take a result of starring in If I Stay, no matter how good the films looks. 
If I Stay opens on August 22.