Chloe Moretz: Terrifyingly Plain on the Set of the 'Carrie' Remake — FIRST LOOK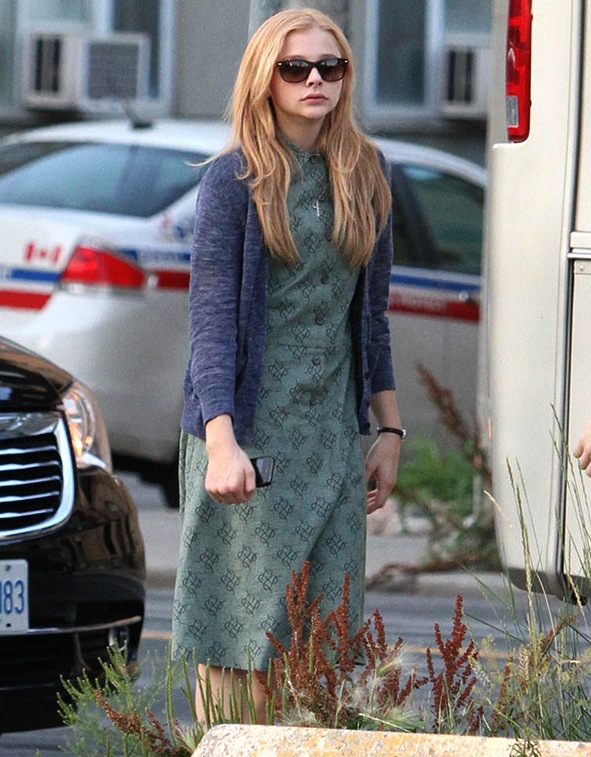 What makes the destructive conclusion of Stephen King's Carrie so powerful is the absolute plainness that kicks off the story. Carrie White is the daughter of a fundamentalist Christian mother who dresses her in outdated, drab clothing so hideous, no beauty can escape its black hole of style. The look inspires the worst reactions imaginable from Carrie's high school classmates, who torture her so badly, she lashes out with telekinetic fury.
An absolutely terrifying scenario, but one we can't wait to see the young Chloe Moretz tackle in the upcoming remake from director Kimberly Peirce. The first photos from the set of Carrie have crept online and now we've got our first look at Moretz in one of the character's signature outfits. Green dress, blue cardigan, a cross necklace — yup, that's the modest Carrie. Moretz is a good looking gal and a solid actress, but even the simplest outfit instantly transforms her into the titular social outcast. Spot on.
Costarring Julianne Moore, Judy Greer and Portia Doubleday, Carrie is currently in production and is expected to hit theaters on March 15, 2013.
Follow Matt Patches on Twitter @misterpatches
More:
Chloe Moretz Offered Role In 'Carrie': Is She The Right Choice?
It's the Stephen King Movie Renaissance: 'The Reach' Headed to Big Screen
Judy Greer Joins 'Carrie' Remake, Continues Being Best Supporting Player Ever
[Photo Credit: Splash News]