Chris Colfer: 'I Can't Be Expected to Promote the Same Stuff in Everything That I Do'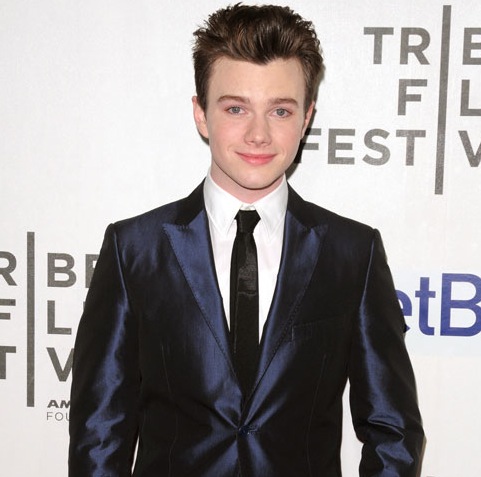 Fans of Chris Colfer, a two-time Emmy nominated and Golden Globe winner for his supporting role as Kurt on Glee, knew it was only a matter of time before the actor broke out on the big screen. But what they may not have expected is that the 21-year-old actor would do it with a script of his very own. The 2012 Tribeca Film Festival played host to Colfer's screenwriting debut, Struck By Lightning, a coming of age tale that draws on many of the young renaissance man's own experiences. The film follows Carson Phillips, an ambitious small towner who dreams of one day being a writer for the New Yorker. Unfortunately, he can't get any of his unmotivated peers to contribute to his lowly literary magazine. So Carson resorts to drastic measures: blackmail.
Kurt is a lovable teen (despite some of his diva like qualities), but Carson is a comparatively darker turn for Colfer. He's abrasive, arrogant and bent on getting his way. Colfer told me he couldn't wait to let him loose into the world. "He was never a way for me to differentiate myself from Glee. He's been with me much longer than Kurt Hummel. And he was created as a way for me to vent. A way for me therapeutically get out what I wanted to say to people who I went to school with everyday because I'd get my ass kicked. So I'd write it in a script and say, 'Ha, there!' I think the big thing about him is that he's so unlikable, but you support him on his journey. You're not supposed to like him, but you give him credit for being ambitious."
Colfer started sketching the first concepts for Struck By Lightning when he was in high school, shaping it into a one-man performance for his debate team. But when he discovered screenwriting, the format became an obsession. "I would go to Borders everyday after school and, I couldn't afford it because it was $40, but Sofia Coppola had published her screenplay to  Marie Antoinette. And I would sit and read that screenplay for hours." Colfer doesn't hesitate to attribute his ability to get Struck By Lightning made to his role on Glee, but did he consult creator Ryan Murphy when he came down to finally penning the screenplay? "I never once asked Ryan about it ever. I respected him too much to be like, 'Here, read my script!' I'd be terrified if he saw the movie."
Though he shouldn't be. Whether it was the script or a chance to work with him, Colfer found it easy attracting the actors he was eyeing up for the individual parts. "Just like my movie, I blackmailed everyone to be in the movie [laughs]. We really hit the jackpot. The person I go to most is Allison [Janney] because when I was 17, thinking about writing a script someday, she was the only actress I ever had in my mind to play the role." Along with Janney, Colfer also pursued the legendary Polly Bergen. The name may not be instantly recognizable to people his age, but Colfer's been a fan of the actress/singer for a long time. "I loved Commander-in-Chief. I was 14 when it came out. Don't judge me! I loved Polly — she was hysterical. Then she was on Desperate Housewives after that. I remember the lunch ladies I was friends with in high school were huge fans of Polly Bergen and they would talk about all her own movies, Cape Fear and Kisses for My President and all that."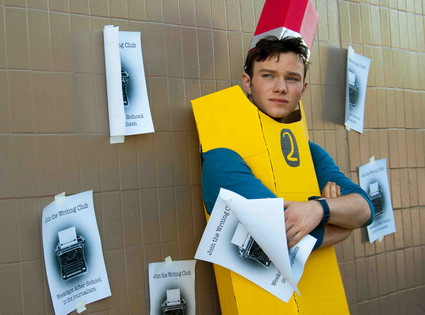 Struck By Lightning is a good-natured opportunity for Colfer to stretch his acting legs, but it doesn't arrive without controversy. In one scene, Carson blackmails two gay students into writing for his magazine, threatening to out them if they don't comply. The moment is particularly strange considering Colfer's work — his Glee character Kurt has arguably advanced the acceptance of gay youth on television and Colfer continues this advocacy off screen. When I asked him if the scene aligned with his sensibilities, he seemed conflicted. "Isn't that crazy? I hope they don't get mad at me for that. I definitely thought they might, but I think they'd also want to me to handle high school how high school is. That is how it is in high school. They're either out and proud or in the closet. There's no in-between. There's no, 'I'm not all the way there, but I'm somewhere in the grey.' That's based on something that actually happened. So I hope they don't get mad at me. I'm trying to validate it [laughs]." It's clear Colfer feels strongly about the evolution of gay rights across the globe. But at the end of the day his goal is creativity, not politics. "I can't be expected to promote the same stuff in everything that I do. And it's not like I treat the other characters with any disrespect that any of the characters see. One is fine with it! One is totally fine with it, it's the other that has an issue. So you see both perspectives of it."
While Colfer's script is rooted in truth, the writer/actor insists it's not biographical (which is evident, when you meet the upbeat and enthusiastic Colfer). That said, his old classmates and neighbors should look out for Easter eggs. "I grew up in Clovis and Clover is the name of the town. That's supposed to be a wink and a nudge. Clovis is 90,000 people, Clover is 9,000 people. It's an inside joke. When they see the movie, I hope they go 'Ha ha!' and not 'Son of a bitch!'" Those afraid that the actor may stick to what he knows, continuing to churn out high school-themed movies, don't fret. He's currently preparing to make a radical departure: "My next movie takes place in an asylum in the 1930s. It's twisted, dark…people are going to look at me differently when they find out. "
Find Matt Patches directly on Twitter @misterpatches and remember to follow @Hollywood_com!
More:
Trailer: Glee Star Chris Colfer Wears Two Hats for Struck By Lightning
Why I'm Going to Start Watching Glee Again
Will Arnett at Tribeca: 'I Don't Want to Spend More Time with Bateman'
Photo credit: Wenn.com