Chris Evans vs. Chris Pratt: Who's the Hotter Marvel Hero?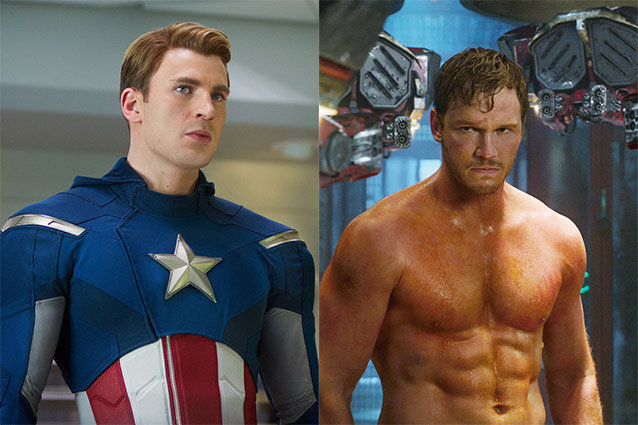 Columbia Pictures via Everett Collection/Marvel
Chris Evans has established himself as a hunky Marvel hero. His Captain America has had two standalone movies and was a major player in The Avengers. He puts the "good" in "good guy," and with his chiseled looks does it with aplomb.  
Chris Pratt, on the other hand, is new to the comic book movie game. The comedian has always had his share of admirers, but that number jumped when he started putting out workout selfies of his buff body. Suddenly, his wife, actress Anna Faris, seemed lucky in a whole bunch of ways.
With Evans starring in the upcoming Marvel's Captain America: The Winter Soldier and Pratt headlining this summer's Guardians of the Galaxy, it seemed like a good time to ask: who's the hotter hero?
Chris Evans
Evans had a career before Captain America, even starring as a different superhero in the two Fantastic Four films. It was his turn as the "super soldier" though that made him into a star. The actor's well defined chest and arms were featured so much in the first Captain America movie that they could've had their own screen credit. In The Avengers, he was the moral center trying to keep Robert Downey Jr.'s Iron Man in check and matching biceps with Chris Hemsworth's Thor. Evans has also tried his hand at romantic comedy, starring opposite Faris in What's Your Number? and Avengers costar Scarlett Johansson in The Nanny Diaries.
In The Winter Soldier, Cap is more disillusioned than ever and has to rely on Johansson's Black Widow and Anthony Mackie's The Falcon to set things right. Evans has been non-committal on his future as an actor, recently telling Variety that he plans to retire from acting so that he can concentrate on directing. Audiences have to hope that he changes his mind… or at the very least, is planning to do a lot of shirtless cameos in the movies he directs.
Chris Pratt
It wasn't so long ago that we might have laughed at the idea of the Parks and Recreation star playing a superhero. But then came his performance as a baseball player in Moneyball, a small but meaty role as a Navy SEAL in Zero Dark Thirty, and countless shots of his rockhard body. Now, he's already voiced the hero in the animated smash The Lego Movie and is stepping into the ever-expanding Marvel universe. In Guardians, Pratt plays galactic outlaw Peter Quinn, who refers to himself as Star-Lord. In the comic books, Quinn had a more heroic backstory, but based on the trailers, Pratt's Star-Lord is more along the lines of Nathan Fillion's wiseass captain in Firefly. What the trailer also shows is a quick shot of Pratt's now famous washboard abs. It might be hard to look sexy when part of your crew includes a thieving space raccoon and his tree-like bodyguard, but having Zoe Saldana around as a green-skinned alien assassin might help Pratt pull it off.
So, tell us, who is the hotter hero… Captain America's Evans or Guardians of the Galaxy's Pratt?