Chris Evans Is as American as Apfelstrudel in 'The Avengers' German Trailer
The Avengers has got some hefty anticipation attached to it. So naturally, it's like a blitzkrieg of excitment when a new trailer comes out. Unfortunately, non-German-speakers might need an aspirin and a lager in reaction to this news: the new Avengers trailer is entirely in German.
I don't mean to take any schadenfreude in your angst. Sure, the release of the German trailer of The Avengers might seem kitsch, but it sure ain't dreck. In fact, this ersatz doppelganger might be more wunderbar than kaffeeklatsch!
For those of us who do not in fact speak any German, we are in luck: the trailer has its share of cognates to maintain comprehension of the plot. Now, it's natural for people to afford a slightly heightened sense of significance to the few words they do understand in the slew of those they don't…but I don't think that's the case here. From what I can ascertain, the main leitmotivs of The Avengers are gentlemen, playboys, bombs, and Avengers. Seriously—that's not too shabby.
The Avengers stars Chris Evans, Robert Downey, Jr., Scarlett Johansson, Chris Hemsworth, Mark Ruffalo, Jeremy Renner, Samuel L. Jackson and Tom Hiddleston. The new Marvel film about this group of ubermensches will waltz to theaters on May 4, 2012. Only a masochist would miss this movie; it is sure to make its mark on our zeitgiest.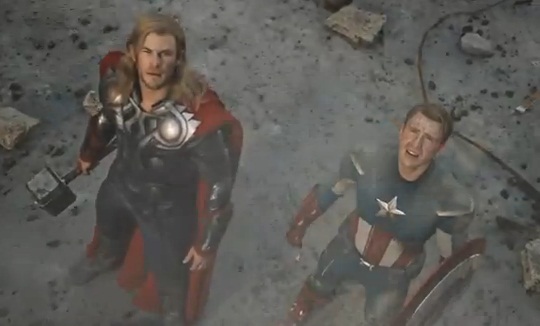 Source: Heyuguys