Chris Rock, Thomas Lennon Play the Cool Dads in 'What to Expect' — EXCLUSIVE PIC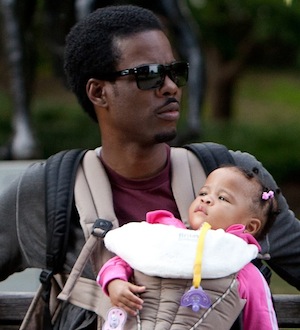 Having a baby: a joyous occasion in any couple's life. Also…a scenario primed for comedy?
Adapted loosely from the pregnancy guide of the same name, What to Expect When You're Expecting follows a handful of couples preparing themselves for life with a young one. Whether they're discovering the news, plotting the future or knee-deep in pregnancy, "expecting" has its ups and downs, but aims to find laughs in every moment.
The premise may sound inherently feminine, but don't fret gentlemen. What to Expect When You're Expecting paired some of the funniest ladies in the biz (Elizabeth Banks, Anna Kendrick, Cameron Diaz, Wendi McLendon-Covey, Rebel Wilson) with actors equally adept at wisecracking (Chris Rock, Thomas Lennon, Ron Huebel). The men of What to Expect form "The Dude's Group," a collection of baby-caring husbands who know their way around a stroller and a burp cloth. As you'll see from this exclusive pic from the movie, just because guys like Rock and Lennon are caring for children, doesn't make them any less hilarious.
What to Expect When You're Expecting arrives in theaters May 18. You way want to leave the babies at home for this one.
Find Matt Patches directly on Twitter @misterpatches and remember to follow @Hollywood_com!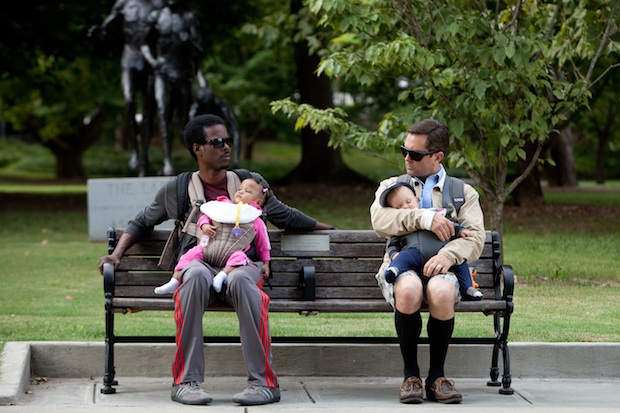 Click to enlarge
More:
Watch the 'What to Expect' Trailer
Sundance 2012: Chris Rock Goes French for Julie Delpy in '2 Days in New York'
'Hunger Games' Elizabeth Banks on Becoming Effie: '4 A.M. Wake-Ups'