IMAX Entertainment Chairman Greg Foster on What to Expect From 'Transformers 4,' Christopher Nolan's 'Interstellar'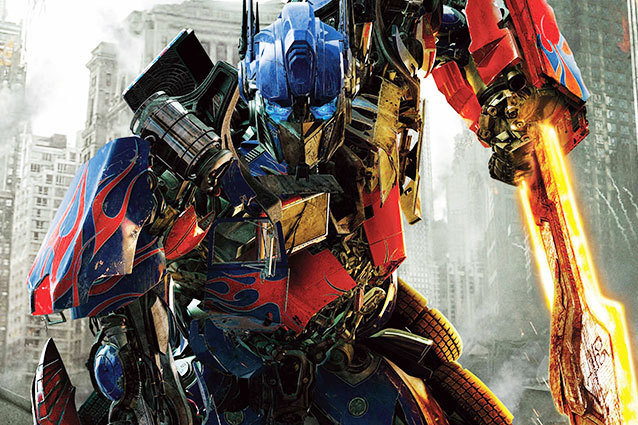 I had the opportunity to chat with Greg Foster, the Entertainment Chairman of IMAX Filmed Entertainment, at CinemaCon about this week's announcement of a five-picture deal with Paramount Pictures and specifically director Christopher Nolan's Interstellar and Michael Bay's Transformers 4. And the studio itself is excited about its collaboration with the company: "IMAX is among the greatest ways to experience a movie," Rob Moore, Vice Chairman of Paramount Pictures, said in a statement released to Hollywood.com. "That fact, together with our combined successes over the years, the growth of the IMAX brand around the world, and our continued partnership with [IMAX CEO] Rich [L. Gelfond], Greg and everyone at IMAX make this agreement a natural extension of an already hugely successful relationship. Working with today's top filmmakers, we look forward to bringing audiences the most exciting new movies with the very best presentation for years to come."
But what can we expect from Paramount's anticipated releases? First, Foster talks about Christopher Nolan and Interstellar:
Christopher Nolan is obviously a huge fan of IMAX with his use of the technology on the Batman films. This clearly demonstrates a real commitment; that the partnership goes beyond The Dark Knight films to every big film he makes. How does it feel for IMAX to have this ongoing relationship with such a well-respected and influential filmmaker?
Everything he (Nolan) does is carefully thought out. We have an incredible partnership with Chris, Emma [Thomas, Nolan's wife and producing partner], and Syncopy. Chris knows our technology better than pretty much anyone, including people who work at IMAX. In fact, he's an IMAX innovator. He just keeps upping his game and it's an honor to be a part of his plans. The bottom line is we are excited that he's going to use our cameras again and use them in a material way and we can't wait to see what he does. We know science fiction is a big part of the movie (which lends itself to our fanbase), and we will be there to support his every effort like we have in the past and like we will continue to in the future.
Regarding Transformers 4, when you think Michael Bay, you think epic, grand-scale filmmaking. This seems like the absolute perfect fit for IMAX and Michael Bay. True?
Well, we've done the last three Transformers, so it's only appropriate that we do another one. Michael is a showman and a hit-making filmmaker and we love working with him. He's talented, a great partner and this movie, like his others, lends itself to IMAX's DNA. Again, we feel very fortunate with this arrangement because both Chris and Michael are dynamic filmmakers and creative leaders of our industry. It's so exciting that in 2014 we'll collaborate with both of these great directors. Hats off and thanks to Paramount and WB for making this possible.
More:
Could Matthew McConaughey Nab the Lead in Christopher Nolan's 'Intersteller'?
'Transformers 4' Script Hits Web 
Mark Wahlberg to Star in 'Transformers 4'
---
From Our Partners:


Eva Longoria Bikinis on Spring Break (Celebuzz)


33 Child Stars: Where Are They Now? (Celebuzz)