'Cloud Atlas' Censorship: What China Didn't See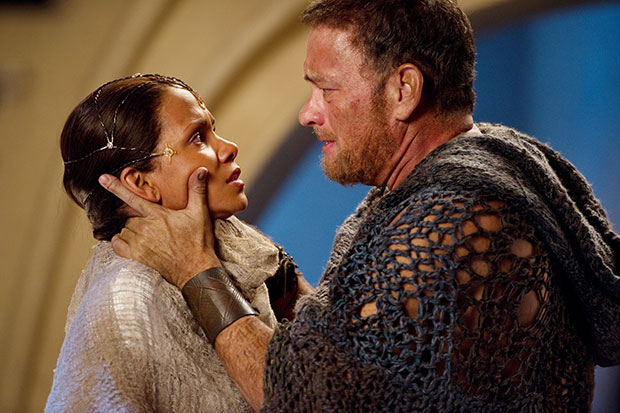 If you happened to stumble limply out of a Cloud Atlas showing this past fall, muttering between yawns, "Well, that was about an hour too long," you're in some pretty mighty company: China has cropped a good 40 minutes out of the Warner Bros. film, discarding the content its censors have deemed unfavorable, as revealed by The Hollywood Reporter.
But some of the material omitted in the China's final cut of the film, which premiered in Beijing on Monday and opens nationwide on Jan. 31, might inspire curiosity. Translating the news from a report in Shanghai's Dongfang Daily, THR describes the nature of the footage that was removed from Cloud Atlas, compared to that which ended up comprising the 130-minute (even with a full 40 minutes cut out, the thing still breaches 2 hours) version of the Wachowskis/Tom Tykwer movie.
Cut Out: "Passionate Love Scenes"
According to THR, Dongfang Daily described China's final cut of Cloud Atlas to have been stripped of the original version's "passionate love scenes." The film's major romances involve parties like Tom Hanks and Halle Berry, Ben Whishaw and James D'Arcy, and Doona Bae and Jim Sturgess (with the latter's story inviting the most visual depiction of love).
Cut Out: "Expository Sequences"
Even more bizarre than the above situation is China's decision to cut out some of the film's "expository sequences," as THR states. Anyone who has seen the complicated movie might find the slimming down on explanation of the tricky universe a bit of a frightening thought, as your questions upon leaving the 170-minute cut are already in large supply. According to Qiu Huashun, CEO of Dreams and Dragon Pictures (which coproduced Cloud Atlas for Chinese theaters), "Chinese audiences might want to see more of a popcorn movie, and considerations for the Chinese market were made in the making of the Chinese version of the film."
Left In: Gun Violence and Graphic Murders
We bring up the fact that China's Cloud Atlas cut was not actually stripped of its more violent imagery not to assign preference to one incarnation of artistic censorship over any other, but only to point out the curiosity in an industry's choice to remove some instances of "dicey" material while leaving alone others. THR reports that scenes involving a fatal gunshot and a man having his throat slit made it past the country's censors, apparently being more suitable for viewing audiences than some of the more "progressive" examples of human love, or some good ol' storytelling.
[Photo Credit: Warner Bros]
More:
The Cloud Atlas Novel Vs. the Movie: The Structure Is Everything
The Word Cloud Atlas: Big Themes, Graphic Spectacle
Tom Hanks & Halle Berry Talk 'Cloud Atlas' and Real Life Soulmates

100 Hottest Women of the Century: Do You Agree?