'Cloud Atlas' & Others Join Crowded Box Office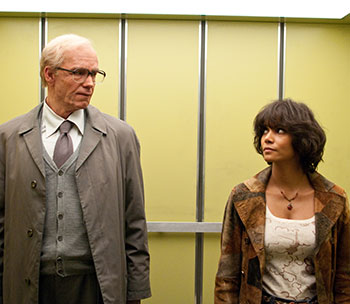 Cloud Atlas from Warner Bros., Open Road's Silent Hill, Paramount's Fun Size and Fox's Chasing Mavericks enter an already crowded marketplace and after a month of solid box office this could be a rather slow weekend.
Drawing major attention from audiences and critics alike is the epic Cloud Atlas from Matrix creators Andy and Lana Wachowski and Run Lola Run helmer Tom Tykwer. The nearly 3 hour movie is based on the novel of the same name and follows the transcendent and existential journey of several characters whose lives, legacies and souls are inextricably linked through the millennia. An expected gross in the low teens awaits the R-rated film featuring a prestigious cast (most of whom play multiple characters through the many story arcs) including Tom Hanks, Halle Berry, Susan Sarandon, Jim Broadbent, Hugo Weaving and Hugh Grant.
The word-of-mouth for Ben Affleck's Iranian hostage crisis drama Argo has not let up one bit as it approaches its third weekend in release. Holding at number one in the midweek derby has us wondering if it could ascend to first place this weekend after taking second place for its first two weekends in release. Playing in 392 fewer theaters this Friday might make that tough, but a mere 15% drop last weekend proves it is best not to underestimate this film and a low teen gross will put it in the fight for one of the top three spots.
Paranormal Activity 4 opened last weekend with a lower debut than the previous two installments with $29 million, but it led an overall box office frame that was "up" for the fourth straight week! The Friday to Saturday drop of nearly 40% reflected fairly lackluster word-of-mouth, but the film has held steady at number two in the mid-week box office race. A steep second weekend drop of 50% plus is probable and could see the film drop from first to third place (or lower) with a gross of around $12 million. But no matter, the film is already a profit making machine like its predecessors.
Like Paranormal 4, Open Road's horror entry Silent Hill: Revelation in 3-D could benefit from the Halloween spirit that may consume audiences this weekend and as such should wind up with $10 million plus in its debut; though some have predicted as high as $15 million for the film. The horrific nightmares portrayed on-screen should excite audiences and enable the film to scare up some R-rated cash this weekend and with a modest budget make the bankers happy as well.
Twentieth Century Fox's Taken 2 in its fourth weekend and Sony Pictures Animation's Hotel Transylvania in its fifth weekend of release will remain threats in the fifth and sixth spot while the new comedy Fun Size from Paramount and Fox's surfing drama Chasing Mavericks starring Gerard Butler should earn in the $4 to $6 million range this weekend.
Next weekend keep are sharp eye out for Disney's family animated hit in the making Wreck It Ralph, Paramount's Flight starring Denzel Washington and Russell Crowe in Universal's The Man With the Iron Fists.