Listen To Coldplay's Broody Theme for 'The Hunger Games: Catching Fire'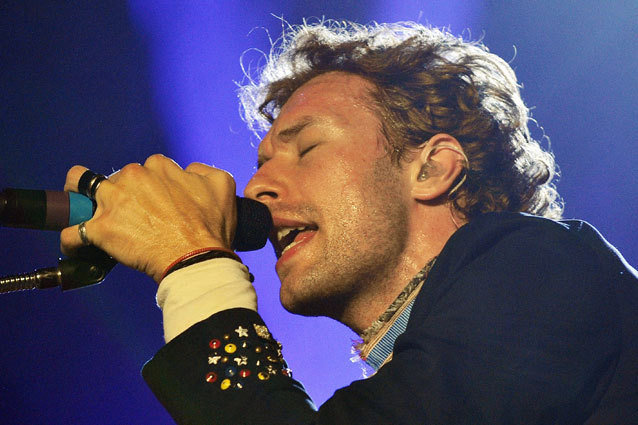 WENN
Team Katniss, the odds are certainly in your favor today. With just over two months until the November 22 release of The Hunger Games: Catching Fire, Coldplay has released "Atlas," the film's theme song. It's exciting news for Hunger Games fans, as it's the first piece of information about the soundtrack that anyone has been able to get their hands on. The song itself is classic Coldplay: a plinky piano line with Chris Martin's soft vocals layered over the top that all builds to a crescendo somewhere around the second chorus. 
Upon first listen, "Atlas" seems like a strange choice for a film about children forced to kill each other in gladitorial-style combat. After all, twinkly pianos don't exactly say "death" or "violence," do they? However, The Hunger Games has always placed a great deal of emphasis on the dark emotions that come with killing other people, and both the novel and the film make sure that the audience understands that Katniss is terrified and fighting for her life. It makes sense, therefore, that the film's theme would be a quiet, broody song to underscore all of the emotion that gets lost in those rapid-fire fight sequences. And while it wouldn't be the kind of song used to underscore a battle, it would work perfectly over the end credits, as the audience reels from that cliffhanger ending. 
The decision to make "Atlas" the Catching Fire theme also makes sense when you consider the first film's theme song: the sad and dreamy "Safe and Sound" by Taylor Swift and The Civil Wars. Sonically, the two songs compliment each other well, and they both highlight the human emotion that is at the center of Katniss' story. Neither one will inspire you to charge into battle, bows drawn, but after all, that's not really what The Hunger Games is all about. 
More:
Our Six Most Anticipated Movies For the Fall
23 Roles We'd Love To See Jennifer Lawrence Take
Watch the 'Hunger Games: Catching Fire' Trailer
---
From Our Partners:


A Complete History Of Twerking (1993-2013) (Vh1)


15 Stars Share Secrets of their Sex Lives (Celebuzz)