Comic-Con 2012: 'Breaking Dawn – Part 2' Footage — The First 7 Minutes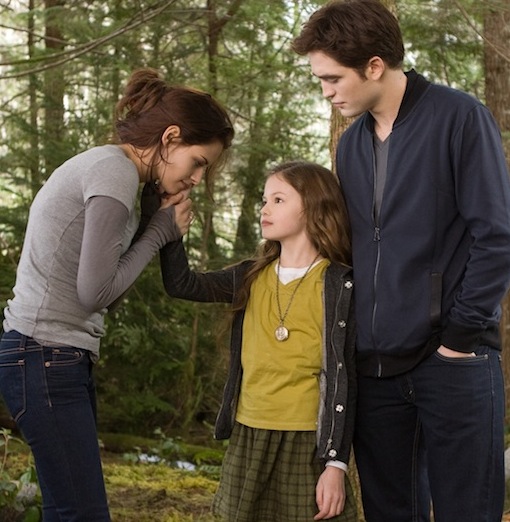 The Twilight Saga: Breaking Dawn – Part 2 is shaping up to be one of the weirdest movies of 2012. Fitting, seeing as its the sequel to an equally bonkers film that reinvigorated the popular series in a way no Twihard or naysayer could have predicted.
If you're still knocking Twilight for being a supernatural romance series where nothing happens, it's time you check out The Twilight Saga: Breaking Dawn — Part 1, a film that takes the characters we know and love despise tolerate love and shoots them into outer space (figuratively). Director Bill Condon cracked the Twilight code with BD — Pt 1: take the melodrama and spin it into pure theatrics. Aggressive lovemaking that breaks beds, fever dreams of bloody nuptials, wolf pack fights, accelerated vampire pregnancies, and "imprinting" on a newborn — Breaking Dawn was completely unhinged and absurd in all the right ways.
While the trailer for Part 2 hinted at the film's tonal consistency, only after footage screened at San Diego Comic-Con do we realize, yes, the second half of Breaking Dawn will be equally has whacked out. Here's a taste of the bloodsucking footage that screened for lucky convention-goers. Beware of spoilers:
The movie opens with Bella's (Kristen Stewart) eyes — picking up just where we left off. She has super senses, and Condon shows it off with zooms to dust particles, water droplets, and more. Looking around, Bella sees Edward (Robert Pattinson) reaching out for her hand. They embrace, and Twilight whips out a signature romantic cuddling moment.
Edward puts it bluntly: "We're the same temperature now." The two look in the mirror. Bella obviously loves the new look — Stewart even cracks a smile! She turns and gives Edward a big hug, and her newfound strength catches him off-guard. Frankly, she almost breaks him. When he stands back up straight after Bella's enthusiastic hug, she gives him a good ol' fashioned butt squeeze for good measure (and with vampiric muscle, it makes him jump).
Bella really wants to see Renesmee, but Edward insists she hunts first. The two run out the door and into the woods — at super speed! It's like a Flash comic. Again, we see Bella's super sense. She zooms in on blooming flowers and spider's spinning web. She leaps over a waterfall. This is most definitely Super Bella.
Bella eventually picks up the scent of a deer, but she finds herself distracted by a nearby mountain climber (who is miles away). She can see his neck. It's calling to her vampiric thirst. She runs at him, climbing up the face of a cliff in super speed. (It looks as nuts as you would hope.) Bella is ready to pounce —Stewart's even looking like she's in tiger stance. Fierce. Luckily, Edward talks her out of it. Bella jumps straight off the face of the cliff and focuses back on the deer. When she crosses paths with the creature again, she comes face to face with a mountain lion. No big deal, Bella wrestles the mountain lion. So good.
The seven minutes conclude with Jacob's (Taylor Lautner) entrance. He thinks Edward and Bella look perfect together. Everyone's happy! It all wraps up with Edward and Jacob bringing Bella in to meet Renesmee…
We also saw another brief scene that showcased more of Bella adjusting to vampire life. The Cullen family is coaching her on how to move with lots of handy insight: "It will irritate your eyes at first;" "Remember to cross your legs!" "Go slowly;" "Blink at least three times a minute." "Remember to breath!" Lots of physical humor here in a way we haven't seen in Twilight. Even Lautner gets a joke, comparing Bella to a cartoon character. Genuinely a hoot.
Can The Twilight Saga: Breaking Dawn — Part 2 live up to the hype? We'll find out when the movie swoops into theaters Nov. 16.
Follow Matt Patches on Twitter @misterpatches
More:
Twilight: Breaking Dawn – Part 2 Trailer Breaks Records, But It's No Dark Knight Rises
Twilight: Breaking Dawn — Part 2: Vampires From Around the World, Unite! — TRAILER
Twilight Stars Pattinson, Stewart and Lautner Gaze Into Your Eyes! — POSTERS
[Photo Credit: Summit Entertainment]