Comic-Con 2012: 'Django' Stars Washington, Waltz, and Goggins Dish on the Western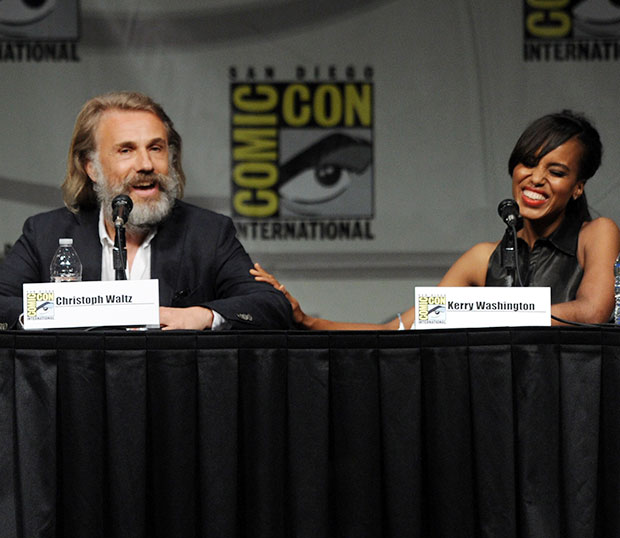 Among all the sci-fi and superhero hoopla of San Diego Comic-Con, it was a western that caused one of the most formidable stirs in Hall H. However, Django Unchained, the latest film from cinephile-turned-master-director Quentin Tarantino, is no ordinary western. Having spoken with the unique film's star Jamie Foxx, it seemed only sporting to reload questions and see how quick on the draw Christoph Waltz, Kerry Washington, and Walton Goggins could be in the post-panel roundtable interviews.
A film set in the antebellum U.S. south and centering on a slave-turned-bounty hunter is sure to be thick with racial complexity. Luckily, Quentin Tarantino has reached a point in his career wherein his prestige affords him the ability to examine these issues. The cast members, not surprisingly, seem keenly aware of the subtext despite approaching it from different perspectives.
Christoph Waltz: "I knew nothing about this black/white thing. I could care less. And that's because I grew up in a culture where you can afford not to care. But here in America, where it really is an issue, I was a little flabbergasted. Jamie introduced me to that and also to a specific perspective that I on my own would not have had. In a way I decided consciously to stay with the, admittedly comfortable, position to say, 'I don't know, because I don't care.' Not in an unsympathetic and detached way. For me, within my scope of thinking, it doesn't exist as an issue and I like it that way."
Kerry Washington: "One of the things I love about this character is that she exists in a time when historically black women were, of necessity, independently strong. The breakdown of the black community in order to maintain slavery began with the breakdown of the black family. Men and women were not legally allowed to get married, because you couldn't have that kind of love; it might get in the way of the economics of slavery. Your children could be taken from you and literally sold down the river, which is where we get the expression. I love that this film is about two people who, even though they exist in a time when they are only 3/5 of a human being according to our Constitution, so believe in their own humanity and in the love that they share and their illegal marriage that they risk life to find each other. It's so triumphant."
Walton Goggins: "I got down to New Orleans and started bonding with some of the guys, some of the black actors. We started hanging out, had a lot of friends in common. And then comes your first day of work, and…you have to say these things and do these things. While liberal Walton didn't have anything to apologize for, I began every take with an apology. These are my friends. It's not easy — it's awful to say these things. But you're in the service of something much greater than yourself. You're telling a piece of history that is the biggest blight on our history as a country. It needs to be retold, and I'm a part of that."
The western is one of the oldest genres in cinema, it means different things to different people, and the cast of Django Unchained certainly runs the entire spectrum with their feelings on the subject.
Washington: "My dad really loves westerns. I never had a personal attachment to westerns. I've learned a lot more about the genre, but I don't know that I would say it's my favorite kind of movie."
Waltz: "The spaghetti western is closer to me than the real western; geographically speaking. I grew up in the European west, on the west side of the iron curtain. Even thought the iron curtain was very close to where I grew up, it was still the west side. In a way I preferred the spaghetti western to the original western. Maybe, and this is speculation, because a certain distance to the original western, going back to the race issue, gives me distance from the core issue. It's a good way, perhaps, to get a perspective. It's not an objective perspective, but that brings us back to where we started. Objective is impossible, we do this for your subjective."
Next:
[Photo Credit: Kevin Winter/Getty Images, Weinstein Company]